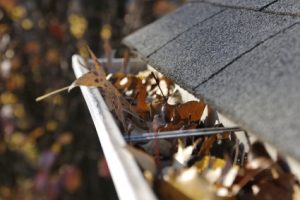 Not many homeowners enjoy cleaning out their gutters. In fact, it can be a pain (and even a little dangerous) to have to climb up on a ladder and reach for all of the dirt and debris that has collected in the top, preventing water from washing down away from your home. Clogged gutters can cause potential damage to both the roof of your home as well as your foundation. Installing leafless gutters is an easy way to reduce the time that you have to spend cleaning your gutters each year. Our gutter systems are virtually maintenance free, so once they are installed, you can truly forget about them!
Benefits Of A Leafless Gutter System
Leafless gutters do exactly what they sound like they should- they are gutters that continuously push water away from your home so that it cannot cause damage. These gutters are essentially covered, so all that can get into them is water. Leaves and other yard debris cannot clog them, causing problems that you might not even notice for a number of days, weeks or even months. An efficient and effective gutter system is especially important in the Minnesota climate where it can get extremely cold in the winter months. If your gutters are clogged, ice dams can form on your roof, adding heaviness that can cause your roof to leak or even worse, make it vulnerable. Leafless gutters protect your home from water damage.
The team at Minnesota Leafless gutters understands that a maintenance free gutter system is desirable for many homeowners. We offer a wide variety of options including aluminum, copper, steel gutters, half round gutters, k-style gutters and even gutter covers, depending on your style preferences and your budget. We can even match the color of your gutter system to your home (we have over 100 color choices). We can take down your current gutters and install your new leafless gutters in a matter of hours, without causing you any inconvenience. We leave the area clean after our work and our crew is always polite and professional. Your satisfaction is our goal, so we will work hard on every single job to answer your questions and complete high-quality work. Much of our success comes from repeat customers and/or customer referrals which we consider the highest possible compliment.
New Leafless Gutter System Installed
As the leaves begin to turn this year, do not waste another minute on a ladder cleaning out your gutters. Consider a seamless gutter system now so that you can sit back and relax this fall and winter! Call us at 612-221-0362 for more information about our low maintenance seamless and leafless gutter options.