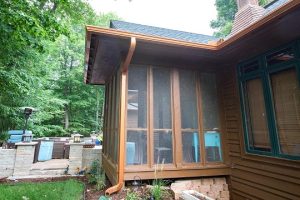 What is one job around the house that you just dread more than anything else? Cleaning the bathroom? Washing your windows? Washing dishes? While none of those sound particularly fun, they are by no means dangerous. There is one other chore that is dreaded and disliked by most homeowners in part because it can be potentially dangerous…. cleaning your gutters. Getting up on a ladder to clean your gutters requires balance, a ladder and some bravery. Many people decide that the risk is not worth it and either ignore the chore or hire someone else to do it every few months. If your gutters are not cleaned regularly, problems can develop over time. The most serious issue is that water can get underneath your siding or the shingles on your roof, which can cause a leak and ultimately water damage.
Leafless Gutter System Installation In Maplewood Minnesota
If you are not one that wants to worry about your gutters, the team at Minnesota Leafless Gutters has a gutter system that is perfect for you. Our seamless and leafless gutters keep all leaves, dirt and debris out of the gutters and only allows water to flow through. This means that your gutters do not need to be cleaned regularly and they will continue to function for years and years with little to no maintenance required. If you have a standard gutter system on your home, not only will you need to clean your gutters regularly, but also make sure that they are functioning correctly and moving water away from your home's foundation. Standard gutter systems that are generally installed on new construction homes can last only about 20 years, especially in an area like Minnesota with intense temperature changes and different types of precipitation throughout the year.
Benefits Of A Leafless Gutter System
Minnesota Leafless Gutters specializes in providing maintenance free gutter systems for homeowners in the Maplewood, Minnesota area. We offer a wide variety of gutter systems that can be customized to fit your home and chosen to complement your home's exterior. The entire goal of a gutter system is to protect your home and our team will help determine the best way to do this for the most competitive price. Our gutter systems are a great investment in your home. For more information about our maintenance free, leafless gutter systems that will keep you from having to climb a ladder 2-3 times a year, call us today at 612-221-0362.