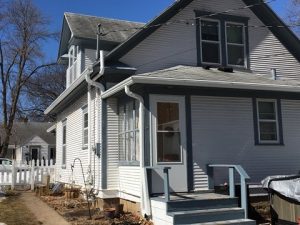 Minnesota Leafless Gutters is your most reliable and professional choice if you are looking for a Maplewood Gutter Installer. We have proudly served the community members of Maplewood, Minnesota, for more than 17 years, and we would be happy to help you protect your home.
Whether you are in the process of building a home, upgrading your current gutter system, or starting the process of renovating a home you have lived in for a long time, Minnesota Leafless Gutters is equipped to do the job for you. There are few aspects of a house that perform such as essential a function as our gutter systems. In fact, there is no system on the exterior of our house that provides a more essential function.
Gutter Installation Company in Maplewood, MN
When gutters are properly installed, they prevent water from entering your home and they divert water away from your house, thus preventing your foundation from being compromised. As any builder, engineer, or insurance adjuster will tell you, the most constant threat to the long-term viability of a home is water. When water penetrates your home's defenses, it is only a matter of time before significant damage will be sustained.
The gutter systems that we install, however, provide the kind of defense your home needs to keep rain, snow, and ice where it belongs, which anywhere except inside your home. It is easy to take a gutter system for granted. Gutters are not what most people think of when they talk about the favorite things about their homes. However, without a reliable, properly installed gutter system, your home can be compromised, and costly repairs will be necessary.
Gutter System Installation
Minnesota Leafless Gutters provides high quality gutter systems in Maplewood, MN. We provide a wide range of gutter color choices to match and enhance the look of your house. Our leafless systems prevent your gutters from becoming clogged, which is one of the primary causes of water seeping into your home. Perhaps it should go without saying, but we will say it anyway: A leafless gutter system also means that you no longer have to get up on a ladder in order to clean out the leaves, pine needles, sticks, and other debris that cause gutter clogs in the first place.
Our staff are experts in installation, which in turn means that they are experts in providing our clients with confidence in their gutter systems. Call Minnesota Leafless Gutters at (612) 221-0362, and we will be happy to provide you with the information you need about gutter installation.