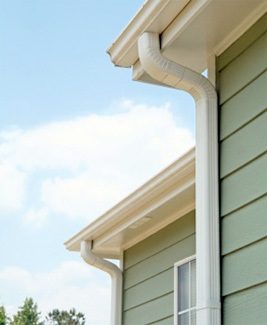 At Minnesota Leafless Gutters, we are proud to offer custom fit gutters that give your property a tailored look while also providing superior protection from water. Our gutter guards allow for much less maintenance and a beautiful finish. If you are looking for a quality Minneapolis gutter contractor, look no further than Minnesota Leafless Gutters.
Gutters that Match your Style
Gutters no longer have to be an eyesore for your Minneapolis home. We believe that you should never have to sacrifice style for functionality. At Minnesota Leafless Gutters, we have a variety of seamless gutter systems that are aesthetically pleasing and still get the job done. We provide gutters and downspouts that come in a plethora of styles, sizes, materials and colors. With over 115 colors to choose from, we are positive that we can find a gutter system that matches your siding, soffit and fascia flawlessly.
Superior Protection from Water
One of the most top gutter-related questions on search engines happens to be, "why does my home need gutters anyways?" Listen, we understand. Until you fully comprehend their functions, it's hard to understand their value. Gutters and downspouts are the silent warriors of your home. They protect your home from decay, rot and any structural compromise. Gutters help water flow out and away from the home, preventing erosion and other serious damage that stagnant water near and on a house can bring. Imagine the pooled water slowly staining and rotting the side of your home, windows and walls. At Minnesota Leafless Gutters, we never want it to get to that point. When precipitation falls, we want it to rapidly exit through your gutters, down your downspouts and away from your home. Our expert Minneapolis gutter contractors here at Minnesota Leafless Gutters knows just how to design your gutter system and provide you with superior protection from water for years to come.
Gutter Guards | Making Life Easier
The best part of a seamless gutter system for many homeowners is the fact that our systems have gutter guard options. A gutter guard will prevent all of those leaves, twigs and other debris from building up within those gutters. This allows for much less maintenance and gutter systems that will work flawlessly.
Ready for your custom fit gutters? Don't wait another second. Take care of your home and let us install a quality gutter system in your Minneapolis home today. For more information about our seamless gutter systems, give Minnesota Leafless Gutters a call today at (612) 221-0362.