Copper gutters are a great investment for your home. This is because they are durable and they will most likely last for the remaining life of your home.  Copper guttering has been used on homes for many years.  As a matter of fact, it is not out of the question for copper gutters to last anywhere between 60 and 100 ye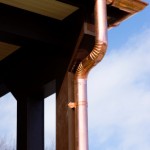 ars, especially when maintained.  And even the maintenance is very minimal.
In Minnesota, copper gutters are growing in popularity because homeowners want that durability.  They also want the look that the copper gutters give.  For instance, after about 4 to 5 years the gutters will start to turn a greenish color.  This is called the patina process. The copper oxidizes and turns green.
The installation of copper gutters in Minnesota requires experience because they need to be installed right.  These are not gutters that you can buy off of a store shelf.  These are gutters that are crafted by a machine that creates the gutter system to fit the exact gutter profile of your home. An experienced Minnesota gutter installer can take care of this for you.