Minnesota Seamless Gutter Systems Minneapolis MN
Spring is here (IF YOU CAN CALL THIS SPRING), and soon we'll be looking at winter in the rear view mirror.
With winter almost behind us, it's a good to walk around your house to look for any damage this past winter may have inflicted to your roof, siding and gutters.  After all, it's no secret that a Minnesota winter season can be pretty tough on your home.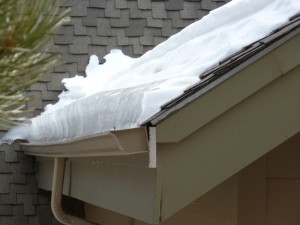 Yup… It's a problem that's seemingly as old as home ownership itself: gutters clogged with leaves and debris.
Nasty winter weather can wreak havoc on your home, often requiring gutters repairs as the warm weather arrives.  Check for blockages that can restrict the flow of water away from your home.
Make sure your gutters haven't been damaged by any ice dams that may have formed over the winter. Also, check that the gutters haven't been pulled away from the home by heavy snow.
Also check to make sure their gutters are unclogged and remain sloped for proper drainage. Make sure the water running off the roof doesn't cause damage to the building structure, landscaping or property below the roof.
Attend to gutter maintenance right away with the help of a Minneapolis Minnesota gutter installer to avoid leaking and other problems, especially during spring rains.
The Gutter Installers Association recommends using GIA-certified contractors to perform a physical inspection of your existing gutters to check for leaks, ensure proper slope for good drainage and offer advice on a variety of gutter protection systems.