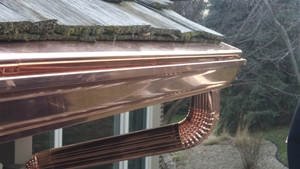 Is it time for you to replace the old, worn down gutter system on your property? Are you in the process of building a new home and in need of a high-quality gutter system? Whatever your situation may be, the best team to partner with for custom seamless gutters that are built to last is Minnesota Leafless Gutters. Our staff is committed to creating the perfect gutters, downspouts and gutter guards for you.
Experienced Gutter Installation Professionals
For more than 17 years, our gutter experts have been building strong relationships with our clients. Whenever there is a need for new gutters in the area, we strive to be the first company that members of the community reach out to. While we pride ourselves on the custom seamless gutters that we provide and the high-quality materials used in every project, that's not the only reason why our clients choose Minnesota Leafless Gutters. We have built a reputation built on trust. Additionally, we have made a commitment to offering fair pricing at all times. Last, but not least, rest assured that your gutter replacement project will be completed on time, with minimal interruption.
Free Gutter Estimates
We understand that a new gutter system may not be the cheapest home improvement project, but it is definitely one of the most important. The last thing that you want to happen is for your home to experience water damage because of the gutter damage that you ignored. To make the decision-making process a little bit easier on our clients, we offer free gutter estimates. With this estimate, you'll be able to get a true picture of the expected costs around this project. During the creation of this estimate, we'll talk with you about the various gutter materials and styles that you can choose from. No matter what gutters you choose, our gutter installation professionals will install your custom gutters seamlessly to your home.
As a company built on happy customers that trust our team and custom seamless gutters that are built to last, we hope that you put your trust in Minnesota Leafless Gutters for your next gutter system installation. We're confident that you'll have the best experience with our staff from the start of your project all the way through completion. To request a free gutter estimate or to learn more about our more than 110 gutter color options, give our staff in MN a call today at (612) 221-0362 and be sure to ask about our transferable lifetime gutter warranty.