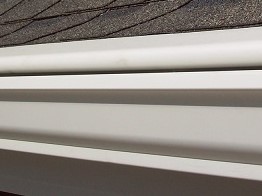 Year after year, Minnesota is hit with some of the toughest weather in the country. Especially during the winter months, the large amounts of snow and ice that accumulate in this region can make it tough on a gutter system. So, if you are in the market for a new gutters, it's critical that you invest in a gutter system that is built to hold up well in this tough climate. By choosing our team at Minnesota Leafless Gutters as your gutter experts, you'll gain access to multiple Minnesota tough gutter options. All our gutters are made on site just for your home. The color options are endless and the craftsmanship is incredable.
Investing in a new gutter system is a big decision that comes with a large price tag. To ensure that our clients are totally satisfied with their investment, we make sure to provide the best customer service around. To start things off, we offer a free gutter inspection and consultation where we spend as much time as necessary to help you decide on the right gutter system for your property. You'll find our pricing to be extremely competitive and you'll have the ability to choose from our wide range of gutter finishes and colors. With every gutter installation project that we take on, our staff will make sure that your new gutter system will fit seamlessly to your home. Count on us to use the heaviest gauge sheet metal so that you get the most out of your new gutter system. Once our work is done, we'll be sure to clean up around the yard so that you won't even notice that our staff was ever there.
Durable Gutter Materials
Since we wanted to offer gutters that were Minnesota tough, our staff offers the following durable gutter materials for our customers:
● Aluminum – If affordability is the top priority, there is no better gutter material than aluminum. Made out of post-consumer and recycled material, this material option can last for 15 or more years if properly maintained.
● Copper – If you're looking to invest in gutters that will last 50 or more years, copper is the material for you. This is the best quality material that can be used, and it doesn't rust or corrode, limiting the future maintenance needed.
● Steel – Built to withstand a heavy load, your new steel gutters will hold up great against snow and ice conditions. This gutter option can last 15 or more years as well.
If finding the right gutter system for your MN home is a top priority, our team at Minnesota Leafless Gutters has Minnesota tough gutters for you to consider. To learn more about your gutter options, give us a call today at (612) 221-0362 or email mnleaflessgutters@gmail.com