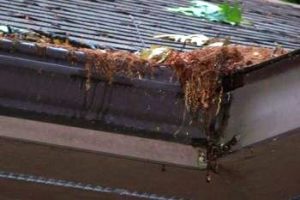 Sick of having to clean your gutters on your own or having to pay to get a professional gutter cleaner to clean your gutters? Gutter cleaning is one of those home improvement projects that often gets put off. The problem, however, is that excessive debris buildup in your gutters can cause significant damage to your gutter system over time. What if there was a way for you to never have to clean your gutters again? Well, at Minnesota Leafless Gutters, we take pride in being a never clean a gutter again company. By combining our seamless gutters with our highly efficient gutter covers, your gutter system will be clean and clear of debris year around. In fact, at Minnesota Leafless Gutters we provide a LIFETIME TRANSFERABLE WARRANTY for labor and materials.
Gutter Covers: What's All the Fuss About?
Especially in the Minnesota region, the fall season brings lots of falling leaves that often get caught up in homeowner's gutters. By investing in gutter covers from Minnesota Leafless Gutters, you will no longer have to jump on your ladder to clean the gutters before winter anymore. Another plus to having gutter covers and not having to worry about gutter buildup is the ability to protect your gutters against ice dams and heavy winter precipitation. Our gutter covers will keep the water, sleet and snow out of your gutters. In turn, you will not have to worry about the added stress and weight that winter weather accumulation can put on a roof and gutter system. Last but not least, thanks to clean and clear gutters due to our top of the line gutter covers, you'll be able to maximize the life of your gutter system as well. Our gutter covers are customized to seamlessly fit your gutter system. These gutter covers are available in a wide variety of colors so that they perfectly match the overall look of your home.
Most Trusted Gutter Team in Minnesota
With more than 17 years of experience in the gutter industry, our customers over the years have been extremely pleased with our work. We offer a free estimate on gutter covers that will allow you the freedom of never having to clean a gutter again. There's no obligation if you aren't satisfied with our affordable prices. Tim, our owner, will personally oversee your gutter project to ensure that it meets his high standards.
As a never clean a gutter again company, our crew at Minnesota Leafless Gutters is committed to taking the necessary steps to keep your gutters clean and clear for the long haul. To learn more about our custom gutter covers and seamless gutter systems, pick up the phone and give us a call today at (612) 221-0362 or email mnleaflessgutters@gmail.com.