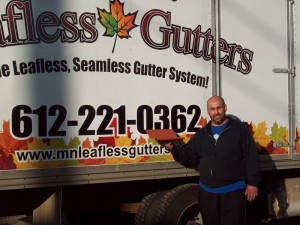 We all know how much strain the Woodbury, MN weather can put on a home. From the frigid winters with tons of snow, to the hot summers full of humid thunderstorms, it is very important that we protect our most precious investment – our homes. One great way to boost up the protection of your home is to install a new set of gutters. Water runoff from your roof can cause significant damage to your home if it does not flow properly through a gutter system. Keep the rest of your home dry by partnering with Minnesota Leafless Gutters for all of your gutter installation needs.
Gutter Installation
Minnesota Leafless Gutters goes above and beyond the bare minimum to always meet our customers needs. We continually achieve customer satisfaction with the following core values:
Free Inspection

– There is no sense in charging our customers before any work is done. Our free inspection will provide you with a detailed outlook on your new gutter installation.

Affordable Pricing

– You will not find a better product at a fair price within this industry.

Options

– We feature very diverse color and finish option for your gutters that cannot be matched.

Customization

– We don't just install standard gutters. Our local installation crew will make sure that your new gutters have a custom fit!

Quality Gutter Products

– Our staff uses the strongest gauged sheet metal on the market for your gutters.

On Time

– Your gutter installation will be completed on time, and you will be left with a clean yard and better protection!
Gutter Material Options
Copper

– A style that can bring you over 50 years of gutter life! The highest quality metal option on the market for your new gutters at a slightly higher price.

Aluminum

– Cost effective and can be made from recycled materials. Choosing an aluminum finish gives you a wide variety of color and finish options. This low cost option can last around 15 years.

Steel

– Arguably the best option for Minnesota residents because it works best with heavy snow and ice accumulation. Steel gutters last approximately 15 years on average as well.
So, if you live in Woodbury, MN and are looking for help with professional gutter installation, look no further than Minnesota Leafless Gutters. Give us a call today at (612) 221-0362 to learn more about our gutter installation options to better protect your home.