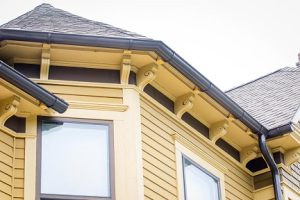 The last two years have been difficult for all of us. Dealing with the uncertainty, the health crisis a global pandemic can cause, and the impact on our jobs and our families has been a challenge. For many families, certain things have been put on hold in order to conserve financial resources. This may include doctor or dentist appointments, vet care for a pet, car maintenance or even home improvement projects. After all this time, your standard grade gutters may be needing an upgrade in order to protect the structure of your home from water damage. Minnesota Leafless Gutters can come to your St Paul home, assess the functionality of your current gutters and make recommendations for a new gutter system, if that is warranted.
Benefits Of A Seamless Gutter System
Seamless gutter systems add important function to your home as well as value. Instead of having to climb up and remove dirt and debris yourself (or hire someone for this job), your gutters do the work. Leafless gutters do not allow the dirt and debris inside in the first place. They only allow water to flow through away from your home so that it does not pool on your roof (creating dangerous ice dams) or to areas that are close to your foundation.
New gutters may not be the most exciting home improvement project, but it is an affordable one and one that will protect your most important (and sizable) investment – your home. Minnesota Leafless Gutters can install all types of seamless gutters including ones made of aluminum, copper and steel, and we can also attach gutter covers if that is a style you prefer. We also can help you match your gutters to your home and have over 100 different color choices to give you just the right look. Our gutter systems are efficient, long lasting, strong and will add true value to your home while protecting it from costly water damage.
Gutter System Installation In St. Paul MN
Our crew has been working as an essential business throughout the pandemic. We understand the stress of having people working at your home right now, so we offer contact-free service. We can communicate virtually from scheduling the free assessment, completing the free estimate and doing gutter removal and installation. If you live in the St. Paul, MN area and would like to learn more about the seamless gutter options we offer, give us a call today at (612) 221-0362.