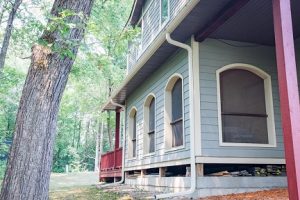 It seems like winter rolls around faster and faster each year. As we head into the fall months, now is the time to make sure that your home is ready for the cold temperatures and harsh weather that is headed our way. Minnesota is known for frigid days, snow, ice and wind and the exterior of your home takes a constant beating every single day. If you still have the standard gutters that were installed when your home was built, it may be time to consider an upgrade. Your gutter system can be a great way to protect your home from water damage this winter.
A gutter system is built to push water down from your roof away from your home's foundation. When they work as designed, they move water down from your roof and into your yard, where it can drain properly. When they get clogged with debris, dirt and leaves, water can have a hard time getting through the gutters and it can pool on your roof or seep out of the gutters and find its way to areas that are unsafe for your home. Water damage is costly and often difficult to repair, so preventing it is always best.
Benefits Of A Seamless Gutter System
Minnesota Leafless Gutters installs a unique type of gutter system that keeps that dirt, debris and leaves from getting inside the gutters. This ensures that the water that falls from the sky can move through the gutters efficiently and away from your home. A leafless gutter system also means that there is no need to climb up a ladder to clean them! This is a huge bonus for many Minnesota homeowners. In addition, because water can move easily down the gutters from the roof, you are also less likely to have ice dams form on your roof from water that freezes and thaws as temperatures change in the winter.
New Gutter System Installation In Minnesota
Leafless gutters come in different materials as well as different colors and can add a fresh new look to your home. Our crew can remove your existing gutters, install the new ones and remove the old ones from your property. We can help you choose the best gutters for your home and your budget. Now is a great time to think about a new gutter system for your home, before winter comes and gutter cleaning and installation becomes next to impossible. Call us at 612-221-0362 for more information.