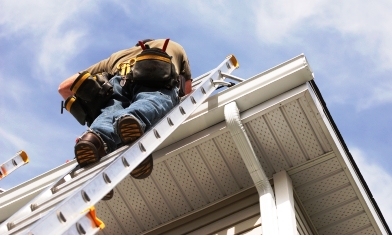 Are the current gutters on your home failing? If so, these poorly functioning gutters can cause home damages that you really don't want to be left dealing with. The good news is that you can prevent home damages from occurring by installing gutters and making sure they function properly. Gutter installation isn't a project that you should tackle on your own. Instead, leave it up to the professionals at Minnesota Leafless Gutters so that we can install gutters that fit seamlessly to your home.
Issues that can be Fixed with Clean Working Gutters
The purpose of gutters is to keep your home dry and to transport the home away from your home. If your gutters are clogged or damaged, issues around the exterior of your home can begin to occur. At Minnesota Leafless Gutters, we cannot stress enough how important it is to have clean working gutters. The issues that can be fixed with clean working gutters includes:
Basement Water Damage – If you have a basement in your home, water can enter into your basement and cause damage if your existing gutters do not transport the water away from your home.
Foundation Damage – Over the years, we've had clients contact us because of their poorly functioning gutters. After our inspection, we've had to share the bad news with some clients where foundation damage has occurred because the gutters weren't working correctly and water was coming in direct contact with the foundation. In turn, the foundation damage turns into a very expensive issue that must be addressed.
Washed Out Landscaping – If you've got a great looking landscape around your home, then it is imperative that you have gutters that are functioning properly. If not, then all of that money that you put into your landscaping will be washed away. Our seamless gutters are the perfect investment to make sure that your landscape stays in tip top shape.
Roof Rot – Another issue that can be fixed with clean working gutters is roof rotting. For those clogged gutters, the water has no way to escape the gutter system. In turn, it can easily cause your roof to rot over time.
Prevent Home Damage with Functioning Gutters
If you are dealing with damaged gutters, it is time to take action. Gutters are one of the best protectors of your home, because they work to push away all of the rain water, snow and ice that comes your way during the year. Releasing the water through your gutters will help protect your roof, siding, basement, foundation and landscape. At Minnesota Leafless Gutters, we make the gutter installation and purchasing process simple. With our free gutter inspection and consultation, we'll provide you with a detailed breakdown of the cost of your gutter installation project. You'll quickly find that our prices are very affordable. To top it off, we make sure that the gutters fit seamlessly to every home that we work on.
A great way to prevent home damages is to install gutters and regularly make sure that they are functioning properly. If you're looking for a company to partner for all of your gutter needs, look no further than Minnesota Leafless Gutters. Give us a call today at (612) 221-0362 or email mnleaflessgutters@gmail.com to request your free gutter estimate.