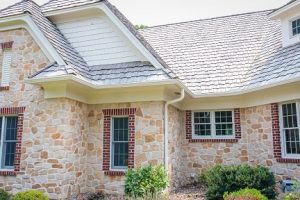 Do you have standard gutters on the outside of your home? Do you dread the chore of climbing a ladder to try to remove leaves and debris that are clogging the gutters? Are your gutters looking like they are separating from your home, sagging in places or not allowing water to flow well? Your gutter system is a very important part of the exterior of your home. It protects your roof and siding from water damage and also pushes water away from your foundation. Water damage can be extremely costly to repair. If your standard grade gutter system is no longer able to do its job, it may be time to consider an updated and upgraded system. Minnesota Leafless Gutters offers many different seamless gutter options that are guaranteed to push water away from your home and keep you off of the ladder!
How Do Seamless Gutters Work?
Standard gutters allow water, leaves, dirt and other debris to enter along with the water from rain and snow. Over time, even with regular cleaning, these gutter systems can get clogged and become unable to complete their function. Seamless gutters are different in that they do not allow anything except water to enter. No leaves, no pine needles, no dirt, which means no clogs and no cleaning. EVER. A new seamless gutter system will prevent any future water problems around your home from developing. This type of investment in your home is priceless. Our seamless gutter systems can be matched to the exterior of your home so that they actually improve the look of your home, rather than detracting from it like some standard grade systems.
Seamless Gutter System Installation in Minnesota
Minnesota Seamless Gutters can install a brand-new leafless gutter system in just a matter of days. We install aluminum, steel and copper gutters and offer more than 110 colors to choose from. We also provide a lifetime transferable warranty for all labor and materials. We believe in our work and the materials we use and pass that confidence onto our customers. You can purchase a new leafless gutter system now and not worry about losing that investment when/if you sell your home. This can convey to your buyer that you have worked hard to take care of your home and instill a confidence in them about the purchase.
Our team works all year round and can also help with roofing issues and ice dam removal. We will help you prevent any water damage around your home. If you want to learn more about leafless gutters, give us a call today at 612-221-0362.