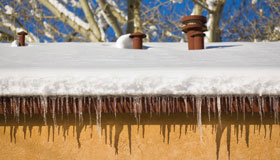 As winter begins, the threat of wintertime roof damage isn't something to take lightly – especially in a cold state like Minnesota. As a Minnesotan, you know snow and ice damage on your roof can mean frustration and expensive repairs. So, what are some signs you can look for, and is there anything you can do to avoid this type of damage? The experts at Minnesota Leafless Gutters have put together a few things that you can do to avoid damages this winter:
Avoid Excess Snow Buildup On Rooftops
Because Minnesota sees above average amounts of snowfall each year, this is something that, pardon the pun, weighs heavily. Large amounts of snowfall can add vast weight to your rooftop and gutter systems. As snow melts, you would think the weight decreases, but the reverse is true (due to the weight of wet snow). As snow amounts increase on your roof, consider hiring someone to safely remove it.
Keep Your Gutters Clear Of Debris
Ideally, you should have your gutters cleaned in the fall – but certainly before the first heavy snowfall. If this step is not completed, your roofline and gutter systems are vulnerable to buildup of snow and the formation of ice dams. If you are noticing a buildup of snow and ice already, it's best to hire a contractor to remove the snow and clean your gutters.
Remove Ice Dam Formations
Ice dams may seem picturesque as they form light-catching icicle formations on the edge of the roofline, but underneath, they are causing damage. Ice dams form where the water freezes at the edge, preventing water from flowing freely off the roof and into the gutter systems effectively. The water pools instead behind the dam, and subsequently re-freezes and enlarges the dam. This adds a great deal of unwanted weight to your eaves and gutter systems. Professionals can safely remove ice dams using steam systems to prevent damaging the underlying roof or gutter.
Professional Ice Dam And Snow Removal
At the end of the day, prevention is key to keeping your home or business damage-free throughout the winter months. To ensure your gutter system is ready for the deep winter months, call the professionals at Minnesota Leafless Gutters to inspect your gutter system. If you are already noticing damages, Minnesota Leafless Gutters can make any necessary repairs. If you are already noticing ice dam formations or experiencing a buildup of snow on your rooftops, Minnesota Leafless Gutters is here to help. Call today at (612) 221-0362 (serving the greater Twin City metro area).