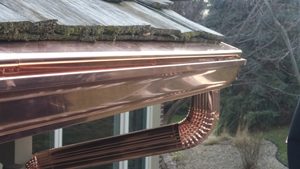 There are certain home maintenance processes that homeowners dread completely. For many homeowners, that maintenance job is having to clean out your gutters. Not only is gutter cleaning time consuming, but it can also be dangerous. At Minnesota Leafless Gutters, we are proud to offer a solution to having to clean your gutters multiple times a year. We are proud to provide professional gutter guard installation, which will eliminate the need for you to clean your gutters in the future!
Say Goodbye to Gutter Cleaning
No need to get your ladder out of the shed or garage the next time the fall leaves come around. Thanks to your new gutter guards from our trusted staff, those leaves will no longer build up in your gutter system. Our gutter guards will effectively keep your gutters clear of leaves and debris and will also ensure that water is able to run smoothly through your gutters and down the downspouts. In turn, this helpful addition to your gutters will provide an extra layer of protection when it comes to keeping your home protected from water damage.
Gutter Guards for all Systems
Whether you are also investing in our seamless gutter system or you are interested in getting gutter guards installed on your existing gutter system, our team has you covered. Our gutter guards can be customized and are guaranteed, just like our gutter systems. We provide our clients with gutter guards that are available in a wide range of colors, so they will be able to find gutter guards that fit the look of their home perfectly.
Free Gutter Guard Estimate
What do you have to lose? Reach out to our staff and request a free gutter guard estimate. We'll come to your home and evaluate the size of your potential gutter guard order. From there, we'll provide you with a detailed cost estimate that gives you an expectation of what the project will cost. We are a no pressure company and provide this free estimate to ensure that our clients are totally comfortable with their investment. We are confident that this will be money well spent when you think about how much time you'll be saving not having to clean your gutters any longer!
So, if gutter cleaning is one of those maintenance processes for your home that you despise, our team at Minnesota Leafless Gutters has just the solution for you. To request a free estimate on gutter guards for your new or existing system, give us a call today at (612) 221-0362