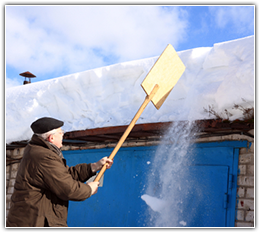 Another calendar year is coming to an end, and we all know what that means – we are coming upon another Minnesota winter. Minnesota weather can often mean severe weather. Severe weather is more intense and can take a much harsher toll on our homes than normal, temperate weather. In Minnesota, the challenges of the cold weather months are falling temperatures, snow, ice, and wind. Combined, those weather phenomena can spell disaster–or at least minor damage–to the structure of an otherwise solidly built home. The accumulation of ice and snow on a roof can lead to the formation of ice dams, which form when the frozen precipitation accumulates on the warm roof of your home, expanding as it refreezes. In the process of expansion, the ice dam lifts the shingles of your roof and pushes its way underneath, and when it does, the warmth of your house melts the precipitation once again, and soon you find yourself cleaning up water inside your house that should not be there. That is where the team at Minnesota Leafless Gutters comes in.
Ice Dam Prevention
Now is the time to prepare for the formation of ice dams. If we receive a storm or two during the winter that accumulates precipitation on your roof that stays there for weeks, and your home's gutters are already full of the leaves and other debris that have fallen during the previous fall and summer, you may have an ice dam problem just waiting to happen. Minnesota Leafless Gutters can help you prevent a costly ice dam in a number of ways, most notably by installing gutters that do not allow the build-up of debris, and by providing a thorough cleaning of your present gutter system.
If you are interested in exploring the possibility of replacing the standard gutter system that came with your home, we have a number of styles, materials and colors to meet your needs. We will also work with you to ensure that the gutter system you choose achieves the balance of matching and complimenting your home's exterior decor. A leafless gutter system is the best guarantee against the formation of Minnesota's winter scourge: the ice dam. You will never have to climb up on a ladder and clean out gutters that we install. They will keep the water flowing away from your home and will not get clogged with leaves and debris.
Seamless Gutter Installation In Minnesota
We use high quality materials for our gutter systems, including copper, steel, and aluminum. Our installation teams are thoroughly trained and highly skilled, so you can be confident that the vision you had for your new gutter system will match your reality. Contact us by calling (612) 221-0362.