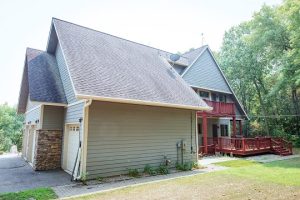 The weather in Minnesota is unpredictable at best. The summer months can be extremely hot, with severe thunderstorms and the winter is, well, frigid, with what seems like endless snow and ice. The spring and fall months are less severe, but can still bring wind, rain and dramatic temperature changes. The weather has a significant impact on anything that is exposed all year round, including your home. Very often, standard gutter systems are installed on homes when they are built, and they are unfortunately not able to withstand the extremes of Minnesota weather and can break down more quickly than expected. If you do not notice a problem with your gutter system, you might find yourself dealing with a leak in your roof or siding or a problem with your foundation. The team at Minnesota Leafless Gutters recommends that you have your gutters inspected regularly to ensure that they are working correctly and are up to the challenge that our climate presents.
Maintenance Free Gutter System
If you find yourself needing a new gutter system, the staff at Minnesota Leafless Gutters can help. Our gutter systems are built to withstand the harsh weather of Minnesota and keep your gutter system fully functional 12 months a year – without any maintenance. That is right. No more climbing up on your ladder several times a year to pull leaves, dirt and debris out of those gutters. Our gutter systems only allow water to flow through, no leaves can enter. This provides extra protection for your gutters, which then provides extra protection for your home from costly water and foundation damage.
Gutter System Installation In Minnesota
Our leafless gutter systems can be customized to fit your home and you can even choose colors that can add to the aesthetic appeal of your property. Our gutters are made of copper, steel or aluminum and are built to withstand the weather and last for many years. Our process begins with a thorough inspection of your current gutter system and a conversation about what we find and what we recommend for your home, along with a fair pricing estimate. We use high quality materials, and our gutter installers are experienced and will complete the job on time and leave your property looking clean and beautiful. Now is a great time to consider a new maintenance free gutter system for your home that will protect it from the elements for many years to come. Call Minnesota Seamless Gutters at 612-221-0362 for more information.