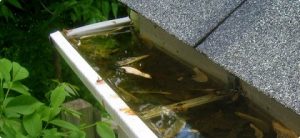 A statement like "the winter in Minnesota is long and cold" is just about as obvious as saying, "water is wet." No matter how obvious the statement is, it is no less true. Winter in Minnesota can be long and cold, and also snowy and windy, and occasionally rainy and windy. The weather we experience in Minnesota can cause significant damage to the exterior of your home. Your gutter system is vulnerable to the elements each winter and needs to withstand the wind, snow and rain to push water away from your home and its foundation. Minnesota Leafless Gutters installs gutter systems that can withstand the harsh Minnesota winters and keep your home protected.
Minnesota Gutter Repair
We do not recommend that homeowners complete gutter system repairs on their own. It can be a safety hazard and if your gutters are not repaired correctly, it can mean damage to your home's siding, roof, or even foundation. Our technicians have extensive training and experience needed to complete the repair safely and correctly. We have the training to assume such risks, and we are happy to do this if it means that we may have prevented our valued customers from falling off. Working at heights on a ladder is not as simple as it may seem, so we hope you will take that into consideration and call us if and when you discover that your gutter system needs to be repaired.
Benefits of a Leafless Gutter System
If your gutter system is not damaged, but you discover that it is falling short of your expectations because it is constantly filling up with leaves, pine needles, sticks, and other debris, as standard gutter systems always do, it may be time for you to contact us about upgrading to a leafless gutter system. All of our leafless gutter systems represent a vast improvement over the standard, contractor-grade gutter systems. Those older gutter systems are minimally functional and can get clogged with leaves and debris multiple times a season. Our leafless gutter system is highly functional, efficient and affordable and does not require you get on a ladder to clean it out!
A gutter system installed by Minnesota Leafless Gutters will not fill up with debris, and we can offer you a range of choices of gutter styles, materials, and colors. We can match the color of your house or provide a color complement that adds a desirable accent to your house. Call us (612) 221-0362 to schedule a consultation.