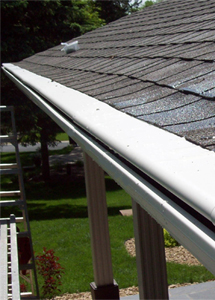 We are coming out of another long, cold period of the year. Even during the cold weather months that do not have major storms, our homes are still battered by the elements. Snow is the obvious culprit in Minnesota. Rain may not be so closely associated with our beautiful state, but it also does its part to slowly damage the exterior of our homes. Wind may be the most dangerous and damaging culprit of the three. The exterior of our homes is under constant assault.
An important, and too often overlooked, aspect of our modern homes is the gutter system. The gutters on your home push moisture and liquid away from your home, preventing moisture and liquid from getting into places where they would do potentially extensive damage. All the while, your gutter system does that work while providing an esthetic accent to the look of your home. At Minnesota Leafless Gutters, we install and repair your gutter systems so that your home can be protected.
Leafless Gutters Prevent Clogging
Many of our clients already understand how important their gutter systems are. This may be because of a previous problem that developed with their gutter system that resulted in an internal leak, unexpected clogs, or external drainage issues. These kinds of problems often occur when a builder installs a cut rate or substandard gutter system to save costs and maximize profit. The system may work fine for a time, but they may lack the strength and durability to withstand the harsh extremes of Minnesota weather.
Minnesota Leafless Gutters can solve these kinds of problems. We have multiple systems that are seamless, meaning that they are designed to prevent clogging. More than that, however, we can offer you a choice of materials, all of which are designed to maximize durability. We also offer a wide range of color choices so that you can preserve, or perhaps even upgrade, the outside appearance of your home.
Gutter Repair And Installation In MN
The installation process of our gutter systems is also a prime selling point for our company. Our employees are skilled technicians who not only know how to install gutter systems with precision, but they are trained to understand the essential importance of excellent customer service. The combination of expertise, experience, longevity in the business, and commitment to good customer service makes Minnesota Leafless Gutters an easy choice for our customers to make. Give us a call at (612) 221-0362, and we will be happy to help you choose the gutter system that is right for your home.