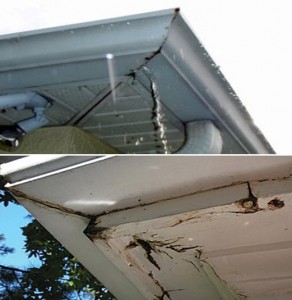 The weather in Minnesota is more extreme than many other states. In the winter, you can expect up to 70 inches of snow and many more inches of rain in the non-winter months. Combining precipitation with wind and temperature extremes, it is important to do what you can to protect your Minnesota home from the constant pounding it takes. Your gutter system is a critical part of protecting your home from the elements. You may not realize it, but your gutters are responsible for preventing costly water damage. They allow water to flow freely from your roof all the way to the ground, and (importantly) away from your foundation. Making an investment in your gutter system can help protect your roof, your siding and your home's foundation.
Why Consider Seamless Gutters?
Minnesota Leafless Gutters specializes in the installation of high-quality seamless gutter systems that are maintenance free and allow water to flow easily away from your home. Standard gutter systems frequently get clogged and eventually can stop working all together. But, our seamless gutter systems are built to keep the leaves, debris and dirt out of the gutters so that the water is never obstructed. This means you will not have to climb up on a ladder to clean them and you can rest easy knowing that you have significantly lowered the risk that your home will have water damage.
Our gutter systems come in many different materials and colors to complement the look of your home. We offer copper, aluminum and steel gutters, gutter covers as well as more than 100 colors to choose from. We will customize a new gutter system to perfectly fit your home and our installation process follows the highest industry standards. The staff at Minnesota Leafless Gutters is experienced and highly skilled and will complete the installation with very little disruption to your daily routine. We offer competitive pricing and will complete the job quickly, leaving your property clean and looking its best. In addition, we are licensed and insured professional roofing contractors and can complete any roofing work that you need at the same time.
New Gutter System Will Protect Your Home From Water Damage
The Minnesota weather is not going to change anytime soon, so now is a great time to consider a new gutter system for your home. It will protect your home from water damage, allowing water to flow away from your roof, siding and foundation as it should. For more information or for a free gutter estimate, give us a call at 612-221-0362.