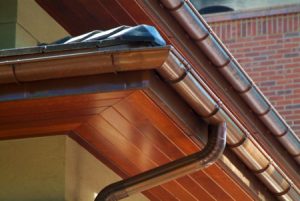 Looking for a quality copper gutter installation contractor? At Minnesota Leafless Gutters we have been providing all of the twin cities metro with quality copper gutter installations for over 17 years. We believe that copper gutters are a fantastic option for our local climate and can offer many advantages.. Copper gutters are such a great accent piece, not to mention how they will look on you home. If you've been searching for quality copper gutters, you've come to the right place. All our gutter systems come with a lifetime transferable warranty. A great benefit for the next home owners.
Benefits of Copper Gutters
Here in the north, we receive all types of nasty weather. From hail storms to snow storms and everything in between, your gutters are constantly working overtime to keep debris and water away from your home. So when you are choosing your gutter system, it's important to make a wise decision. Copper gutters can last over 50 years if they are properly maintained. Copper is by far the longest lasting material out on the market for gutters today. A large reason for that is that copper does not rust or corrode. So when we install a seamless copper gutter system, homeowners don't have to worry about leaking joints or re-soldering transition spots. Copper also doesn't need to be painted or have color to it. Overtime, copper turns itself into a beautiful patina color, much like a penny.
Quality Copper Gutter Installation
While there are many different advantages to having copper gutters, if they aren't installed correctly, they will not be worth the money. Having an experienced team on your side makes copper gutter installation worth the price tag. At Minnesota Leafless Gutters, we have metal roller technology that makes it easier than ever to seamlessly install your copper gutters. This technology also makes it more affordable than the labor intensive copper gutter systems in the past. Once it is properly installed, the maintenance becomes very low and your quality seamless copper gutter system lasts for years on end.
Lifetime Transferable Gutter Warranty
We are so confident in our quality seamless copper gutter installation that we include a lifetime transferable warranty for all of our labor and materials. We are confident in our installation process and the quality materials we use. Doing it right the first time, every time, saves us all much needed time and money.
Call Minnesota Leafless Gutters to learn more about our copper gutters and receive a free estimate at 612-221-0362 or by emailing mnleaflessgutters@gmail.com.