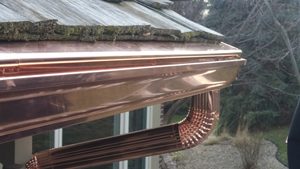 If your gutters aren't performing as they should it can spell disaster for the structural integrity of your home. Hiring a quality gutter installer close to me can help you to assess whether your gutters are performing optimally which can save you big money over the long term. Gutters are some of the most important components of your home, yet many of us don't take the time to check that they're working as they should. Let us stop by your home or office and explain why installing gutters that maintain themselves is more cost effective.
Why Are Gutters So Important? – The primary goal of your gutters is to divert water as far as away from your home as possible. Heavy rains can cause significant damage to your home, especially to your soffit, fascia, windows, door and foundation. Without gutters you can find yourself spending big money on costly exterior repairs, which could have been prevented by hiring a quality gutter installer close to you.
The benefits of gutters are almost too many to list, but a few include:
• Prevent erosion
• Protect your landscaping
• Protect your home's foundation
• Prevent your basement and crawlspace from flooding
• Reduce the threat of mold and mildew in your home
Wide Array of Gutter Materials Based on Your Needs
At Minnesota Leafless Gutters, we only work with the highest quality gutter materials. We've been in the gutter industry for almost 2 decades and in this time, we've seen some of our competitors use inferior materials which simply do not last. We use some of the heaviest gauge metal in the industry to ensure your gutters will stand the test of time. Our most common gutter materials include:
• Aluminum Gutters
• Steel Gutters
• Copper Gutters
Depending on the style of your home and your budget, we can work with you to choose a gutter material that will work well based on your needs.
Gutter Maintenance is Also Key to Protecting Your Home
Not only are quality gutters important, it's also vital that you regularly maintain your gutters as well. This means keeping them clean and free of debris. We install seamless gutters which make cleaning a breeze and we also can add gutter covers to prevent you from having to hop up on your roof each fall to remove the mountain of leaves that tend to get lodged in your gutters.
Free Gutter Installation Quote
If you're convinced that your gutters have seen their better days, it's likely time to contact Minnesota Leafless Gutters. We'll be happy to provide you with a free gutter installation quote if you simply pick up the phone and call (612) 221-0362 today.