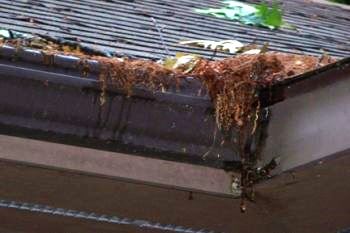 When's the last time that you walked around your property and looked at the condition of your gutters? The next time it rains, why not step outside and look to see if your gutters are performing as they should? If they're damaged and you're in need of a rain gutter replacement company look no further than Minnesota Leafless Gutters.
Signs Your Gutters Need to be Replaced
There are several signs that your gutters may need to be replaced, a few of which include:
Leaking gutters – At Minnesota Leafless Gutters, we deal with leaking gutters every single day. Typically gutters leak at joints and near the corners. This is especially the case with gutter sections.
Damage to soffit and fascia – Soffit and fascia boards are what your gutters are physically attached to on your home or building. If your gutters are leaking, water can get behind them and eventually cause your soffit and fascia to rot. Many times, we find with damaged gutters that significant amounts of wood rot can occur, especially if your gutters have been leaking for a long period of time.
Bent or sagging gutters – If your gutters are bent or sagging, they can't do their job. Gutters are installed in such a way to funnel water from your room into your downspouts and away from your foundation. However, with bent or sagging gutters, the water coming off your roof will not be able to adequately run into your gutters and downspouts.
Rusted gutters – Rust is another sign that your gutters are likely leaking and need to be replaced.
Seamless Rain Gutter Replacement Company
Seamless gutters are a technology that has emerged over the past few years that has completely revolutionized the entire gutter industry. Seamless gutters are formed on site without seams to reduce the chance of leaks. The seams are typically where gutters most often fail, which is why our team at Minnesota Leafless Gutters only installs seamless gutters. We've found that these gutters outperform inferior and antiquated sectional gutters time and time again.
Contact Minnesota's Leading Rain Gutter Replacement Company
If you're in the market for new gutters, now's the time to give Minnesota Leafless Gutters a call. We'll be happy to come out to your home to take a look at your existing gutters to see if it's finally time to replace them. The beauty is that today's gutters are much more efficient than models from years ago, so when you do actually replace your gutters, you'll be able to enjoy improved drainage and less maintenance for many years to come. To learn more about our seamless gutter selection, feel free to give us a call today at (612) 221-0362.