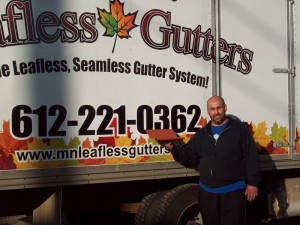 Although cleaning gutters may sound easy, it can be a very dangerous project. Anytime you are dealing with climbing high ladders, you should be extra careful. Year after year, gutters build up with debris, leaves, and filth from the fall and spring season. In Minnesota, we have beautiful trees, however they can become quite the nuisance when they build up the debris in your gutters way too often. If you are looking for a way to not have to climb your raggedy ladder every year to clean your gutters, Minnesota Leafless Gutters has the solution. Team up with our experienced gutter installers to provide you with leaf gutter guards. Not only do we provide protection for your gutters, but it also provides a slick, clean look for your home.
Gutter Guard Installation Crew
When investing in gutter guards, it is important that you choose a team of professionals that not only have experience, but also have a passion for treating customers fairly and with respect. Our staff has been serving the Minnesota region for over 17 years, and we do not plan to stop anytime soon! What you quickly will find that is different in the way we work is that when you call to set up an estimate, you will speak directly with the owner of the company, Tim. We do not believe in sending salesmen that are trying to gain a commision out to your home. Instead, Tim will oversee the entire gutter guard installation process from start to finish.
Gutter Guards Offered
We offer various types of gutter guards depending on the look you are going for. We offer our guards in a wide range of colors to make sure we achieve your desired look. Not only do our gutter guards provide protection from debris, but they also ensure that water runs smoothly through the downspout of your gutter system. The guards that we offer include:
Gutter Guards
Gutter Toppers
Gutter Screens
Gutter Filters
Our Gutter Warranty
Our gutter guards come with a lifetime transferable warranty for the labor and materials used in your installation. Thanks to the high quality products that we use, these guards should last for the life of your house!
So, if you live in Minnesota, don't pull the ladder out again this spring. Instead, give Minnesota Leafless Gutters a call at (612) 221-0362 to learn more about our leaf gutter guards.