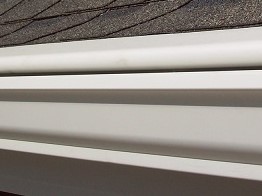 When the weather is warm and there are still months of long days and the promise of sweaty, outdoor activities in front of us, the last thing most people want to be thinking about is ice dams. Ice dams are a reality during the colder months, so shouldn't we be able to enjoy the warmer weather months without having to think about the realities of a cold, dark return of winter? The short answer is 'Yes.' The warmth of spring, summer, and early fall does not need to be completely subverted by thoughts of winter, but it is possibly, and in some cases necessary, to plan ahead.
Prevent Water Damage To Your Home This Winter
Ice dams are a real problem for Minnesota homeowners. No, they are not a problem in the middle of summer, but they can become a more severe problem if they form the following winter in part because they were not planned for. Minnesota Leafless Gutters can help you prepare for severe winter weather now, when the weather is more cooperative and the actions you take are more can prevent problems later. If you have been thinking about upgrading the gutters that came with your house, Minnesota Leafless Gutters can help you make the best decision about a new leafless gutter system that will eliminate the possibility of ice dams forming during future winter seasons.
Ice dams form as a result of inefficient movement of water away from your home. In colder weather, snow that accumulates on your roof melts when it meets the warmer temperature of your home. If the water cannot be moved away quickly enough, it stops moving at all and then refreezes and expands. The expansion of ice build-up is the ice dam. Before it has a chance to melt completely, the expansion of the frozen water can (and often does) damage roofing by being forced under shingles. Once that happens, the ice melts once again and before you know it, you have a damaged roof and water leaking into your living space.
Benefits Of Leafless Gutters
Installation of new leafless gutters, or repair of your current gutter system, can go a long way toward preventing ice dams from forming. In addition to being a practical solution to a future problem, our gutter systems can also add a new dimension to the aesthetic of your home. We can install leafless gutters that match and complement your home. A leafless gutter system also keeps you from having to climb a ladder to clean!
If you are someone who plans ahead or simply wants more information about our gutter systems that can be installed now to prevent problems this fall and winter, call us at (612) 221-0362.