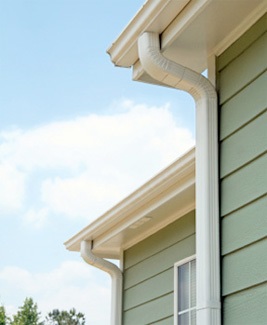 Homeowners know that gutters are a critical part of the roofing system. Gutters are a long term investment and an integral part in the infrastructure of your home. At Minnesota Leafless Gutters, we take great care to provide you with high quality aluminum gutters. Our craftsmen install gutters built to last. Therefore, we provide a lifetime transferable warranty for the labor and materials of your gutters. If you live in the St Paul area, let us install your aluminum gutters. You can be assured that our reputable company will give you the best value for all of your gutter needs.
Advantages of Aluminum Gutters
Aluminum is the most popular gutter on the market. They are economical and they can be made from post-consumer and recycled material. Since they will be carrying water, aluminum is a popular choice because they will not rust. Other reasons to choose an aluminum gutter system:
Aluminum is a very durable material that will not corrode under normal use.
Aluminum gutters are available in a variety of colors allowing for color coordination between your roof and other aspects of your home's design.
Aluminum gutters are very light.
They don't require special support structures.
They are relatively low maintenance.
Seamless aluminum gutters have drastically changed the productivity of the gutter system. It is estimated that over 70% of homeowners are choosing to install seamless gutters in their homes. You can say "goodbye" to leaky gutters when you have our craftsmen install your aluminum seamless gutters.
Are you still wondering whether seamless aluminum gutters are right for your needs? The professionals at Minnesota Leafless Gutters would be happy to come to your home for a free gutter inspection. During your consultation, we will report to you our findings and recommendations. If we decide that your project may not be a good match for aluminum gutters, we offer steel and copper options as well. It is true that aluminum is not quite as strong as steel or copper. And, aluminum can be dented more easily than other forms of metal. Regardless of the metal you choose, it will be customized to fit your home perfectly by using our industrial metal fabricating equipment.
If you live in the St Paul area and are ready to discuss our seamless aluminum gutter systems, call the professionals at Minnesota Leafless Gutters. We look forward to taking your call at (612)221-0362!