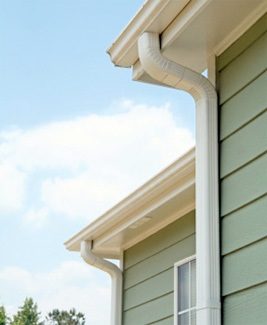 Let's be honest; gutters aren't the most glamorous project in the home improvement world. You don't see reality TV shows spending hours discussing gutters – if they're mentioned at all – and you probably don't think about your gutters that often. Until something goes wrong, of course. If you're looking for new gutters, chances are good it's because your gutters are worn out, and you're searching for a new gutter system that will last a while. At Minnesota Leafless Gutters, we've been around long enough to know that in Minnesota, gutters aren't just another add-on to a home; they're a necessary part of keeping water off of and away from your home. With as many storms as we get, choosing the right gutters is actually one of the most important decisions you can make all year. That's why if you need a St. Paul, MN seamless gutter company, you need someone like us to provide you with quality gutters and enough information to choose the best gutters for your home and your budget.
Seamless Gutters Benefits
If you've never seen or had seamless gutters, you're probably wondering why exactly they're a better option than other gutters and why we devote our time to creating only seamless gutters. With a seamless gutter system, you're essentially getting gutters without welded seams. Instead, our gutters are designed in longer sections of gutter material, allowing water and debris to flow more freely without getting trapped and clumped in the seams. That means less maintenance and cleaning, less damage to your gutters over time, and longer-lasting gutters. (Which means you won't have to think about gutters again for a while.)
Gutter Styles and Materials
Our seamless gutters come in various shapes and styles, all of which offer different benefits and drawbacks. It's up to you to decide which type of gutter system is best for your home based on your budget, your home's aesthetic, and how long you want your gutters to last. Our gutter styles including k-style and half round gutters, and these can be available in several materials, including:
• Aluminum gutters: An affordable gutter material that can last up to 15 years, though they're more susceptible to damaging Minnesota storms than other gutter materials.
• Galvanized, enamel-finished and stainless steel gutters: Another affordable option that lasts for 15 years, on average, though it's more durable in areas like St. Paul, where we see hail storms that can damage weaker materials like aluminum.
• Copper gutters: Amazing durability and longevity, lasting 50 years or more, even in our harsh winter weather. Copper gutters are the most expensive option, initially, but they more than pay for themselves when you consider they can last more than five times longer than other materials.
Seamless Gutters to Match Your Home
Choosing to install seamless gutters on your home can be an easy decision, but choosing the material or style that's right for your home can be more difficult. If you're not sure which style of seamless gutters will match your home, give the experts at our St. Paul, Minnesota seamless gutter company a call. You can reach anyone at Minnesota Leafless Gutters at (612) 221-0362 or mnleaflessgutters@gmail.com to get a free quote for seamless gutters today!