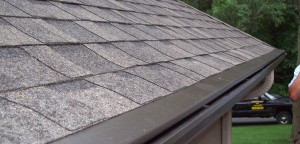 Installing rain gutters on your Inver Grove, MN home is something that is extremely important. It cannot be stressed enough how important it is that you have a gutter system on your home. If your home is not equipped with a proper gutter system, you're in for a world of problems. Unfortunately, gutters are something that a lot of homeowners tend to overlook because gutters are something that is typically able to function on their own without any help, making it easy to forget that they need to stay in working order, and that new gutters need to be installed when the existing ones aren't working correctly anymore.
Hiring Gutter Professionals Is Just As Important
Proper gutter installation is important as well. If you do not have a professional install your gutter system correctly, you may encounter:
Roof Damage – A gutter system that is installed correctly can cause water to run underneath the shingles on the roof, creating roof damage.
Leaks – If a gutter system is not properly installed, water can leak and start to run down the sides of the house, meaning that the water can get underneath the siding of your home causing erosion.
Damaged Foundation – When an immense amount of water is being down poured from the roof onto the sides of your home, it can take a toll on your foundation, creating cracks.
Flooded Basements – If your gutters are not properly placed, water can even leak into your basement.
Minnesota Leafless Gutters: Your Gutter Installation Experts.
At Minnesota Leafless Gutters, we know how important gutter systems are, so we complete every project perfectly in order to keep water from entering your home or ruining your foundation. Seamless gutters are becoming one of the most popular types of gutter systems on the market because of their warranty and because they are virtually maintenance free.
There are Different types of seamless gutters including:
Half-round seamless gutters – classic and elegant in appearance; less frequent need for cleaning.
K-style seamless gutters – crown molding appearance and have the ability to transfer large bodies of water away from the home.
Aluminum gutters, downspouts and gutter covers – made from post-recycled materials; relatively low cost.
Steel gutters, downspouts and gutter covers – stronger than aluminum; good for the northern states where temperature fluctuates.
Copper gutters, downspouts and gutter covers – gives that rustic, elegant appearance copper gutters do not rust or corrode; do not require any upkeep.
If you are having issues with your current gutter system, or would like to have one installed, call the gutter professionals Minnesota Leafless Gutters at 612-221-0362 today!