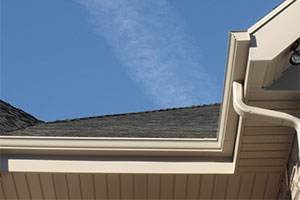 Are your gutters not able to keep up with the heavy rain or snow that's common in our area? Or, maybe you're in the process of renovating your Minneapolis home, and are starting to think about the types of gutters you'll install? Whatever the case may be, if you're looking for new gutters, you should really think hard about seamless gutter installation. Seamless gutters from Minnesota Leafless Gutters offer a whole host of benefits that you'll be sure to appreciate.
Why Do I Need Seamless Gutters?
Seamless gutters are far superior to sectional gutters because they reduce leaks due to the fact that each section is formed from a single piece of metal. If you're looking for a lower maintenance gutter option, you should most definitely consider seamless gutters.
Decades ago your only option for gutters was to purchase the gutter material in sections. This means that if your home is more than a few decades old, you likely have sectional gutters, that could need replacing. If you notice that debris is constantly getting clogged in your gutters, or you're noticing small leaks at your gutter seams, it may be time to look into whether seamless gutter installation would be beneficial for your home.
Different Types of Seamless Gutters
There are primarily two types of seamless gutter styles: half-round seamless gutters and K-style seamless gutters.
Half-round gutters were typically used in homes that were built before the 1960's. If you'll notice historic homes around the Minneapolis area, many of them will have half-round gutters because they tend to look great with textured roofing materials which are often used in historic renovations.
K-style gutters gained in popularity in the late 1960's when metal fabrication became more prevalent. Today, K-style gutters make up for the majority of new seamless gutter installations. These gutters typically have a higher water capacity compared to half-round gutters.
Wide Variety of Gutter Materials
Depending on the style of your home, we offer three main types of gutter and downspout materials: aluminum, steel and copper. For all of our seamless gutters, we use high gauge metal to ensure they last for years to come. Beware of working with a gutter installation company that is offering vinyl gutters, because they simply can't stand up to the harsh winters in Minnesota. If you're unsure of which material would work best for your home or business, don't hesitate to reach out to our team today. Call us today at 612-221-0362 to schedule a free consultation.