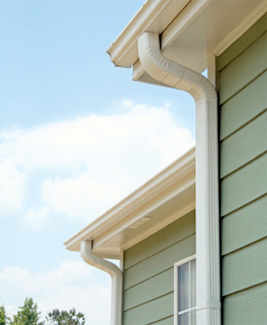 At Minnesota Leafless Gutters, we take pride in our work and our satisfied customers. Through the scope of high quality, professional seamless gutter services, we have earned an 'A+' grade from the Better Business Bureau. We are committed to providing the most comprehensive gutter services for the residents, homeowners, and business owners in St Paul, Minnesota. Let us show you why Minnesota Leafless Gutters has earned its coveted reputation as the best in the business!
Various Choices for Your Gutter Systems
The professionals at Minnesota Leafless Gutters have a vast knowledge of seamless gutter systems and repairs. There's no job too small or too big that we can't tackle! The installation of seamless gutters in aluminum, copper, or steel is just one of many jobs we do. During your free consultation, we can discuss which material suits your needs best. We also offer the traditional Half-Round Gutter System and the popular K-Style Gutter System. Here's how they compare:
Half-Round Gutters:
Clean simple lines suited best for textured roofing materials and high-end custom homes.
Most efficient gutter style and least effected by ice and snow.
Allows all water to flow directly out which requires fewer cleanings throughout the year.
K-Style Gutters:
Crown molding style which gives a framed look to the roof and exterior of the home.
Transports larger volumes of water than the half-round gutters.
Can be challenging to clean.
Tackling those gutters is a job best left to the professionals. At Minnesota Leafless Gutters, we can install gutter guards to your existing gutters or to your new gutters. We offer various types of gutter toppers, gutter screens, or gutter filters. These will shield your gutters from the build-up of leaves and debris eliminating the need to ever clean those gutters again! In addition to keeping those gutters clear, you can be assured that water will continue to run smoothly to the down spot throughout every season.
Do your home repair needs extend beyond the gutters? We can install your new roof too! We are a licensed and insured professional roofing company and can complete both your gutter and roofing jobs simultaneously!
Call the professionals at Minnesota Leafless Gutters today at (612)221-0362! Take advantage of a free gutter inspection for your St Paul home. We look forward to fixing and perfecting your gutters so they will not only look spectacular, they will function efficiently too!