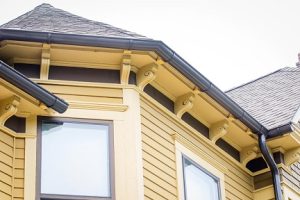 Gutters play a pivotal role in safeguarding your home from water damage, but their functionality doesn't have to compromise on aesthetics. Enter seamless gutters, a solution that combines efficient water management with a sleek and sophisticated appearance. At Minnesota Leafless Gutters, we're here to guide you through the world of seamless gutter options, ensuring your Apple Valley home remains both protected and visually appealing.
Seamless gutters are a modern advancement that eliminates the need for traditional gutter sections joined together by seams. These seams, often points of vulnerability, are prone to leaks and debris accumulation. Seamless gutters, as the name suggests, are manufactured from a continuous piece of material, reducing the risk of leaks and ensuring smoother water flow.
Customized fit for your home: One of the standout advantages of seamless gutters is their customizability. Unlike traditional gutters that come in predefined lengths, seamless gutters are tailored to fit your home's dimensions precisely. This ensures a seamless fit along your roofline, enhancing both the functionality and visual appeal of your property.
From functional to fabulous: Gone are the days when gutters were purely functional. With seamless gutters, you're not just investing in water management; you're elevating your home's curb appeal. The absence of seams gives your property a polished look, as seamless gutters blend seamlessly into your architecture, creating a harmonious visual flow.
Durable materials for longevity: At Minnesota Leafless Gutters, we prioritize durability as much as aesthetics. Our seamless gutters are crafted from premium materials that can withstand the harshest weather conditions Minnesota throws at them. Whether it's rain, snow, or ice, your seamless gutters will remain resilient and efficient.
Minimal maintenance, maximum benefits: Seamless gutters aren't just about looks – they also offer practical benefits. The absence of seams means fewer areas for debris to accumulate, reducing the need for frequent cleaning. This translates to less maintenance and more time for you to enjoy your home.
Choosing Minnesota Leafless Gutters for seamless excellence: At Minnesota Leafless Gutters, we're passionate about enhancing your home's functionality and beauty. Our team of experts is dedicated to helping you explore seamless gutter options that align with your preferences and needs. With our commitment to quality craftsmanship, you can trust that your seamless gutters will be installed with precision and care.
Ready to upgrade your Apple Valley home's gutters to a solution that combines efficiency with elegance? Contact Minnesota Leafless Gutters today to schedule a consultation. Let us help you choose the perfect seamless gutter option that complements your home's aesthetics while providing top-notch water management. With our expertise, you can enjoy streamlined elegance that protects your investment for years to come.