Protect Your Home and Landscaping from Water Damage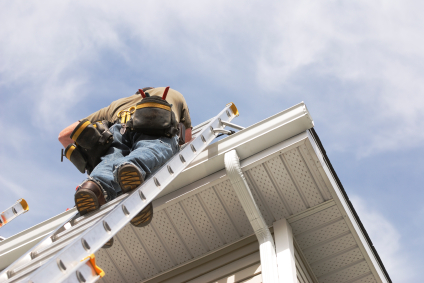 Are you looking for an economical way to Protect Your Home and landscaping from Water Damage? An attractive new Seamless Gutter System installed by the experts at Minnesota Leafless Gutters is just what you need. We can custom design a gutter package to fit the architectural style of your St. Paul, MN home and give you long lasting protection. There are several different options for Gutter Styles and Colors to compliment a home. Before the leaves have fallen from the trees you can have an affordable, No Clog Leaf Guard System installed.
Lifetime Transferable Gutter Warranty
The experts at Minnesota Leafless Gutters can provide you with a lifetime of customized protection for your home. We offer a Lifetime Transferable Warranty on labor and materials. MN Leafless Gutters uses the thickest gauge metal in the gutter industry. Our seamless gutter systems are strong enough to last through years of Minnesota winters and handle the snow and ice beautifully. All gutters are fabricated on-site and professionally installed.
Seamless Gutter Styles, Materials and Color Options
Each St Paul home is unique in its own way. Why should you have to go with ordinary looking gutters when Minnesota Leafless Gutters has a huge selection of Seamless Gutter Styles, Materials and Colors from which to choose?
Seamless Aluminum Gutter Package
Seamless Steel Gutter Package
Seamless Copper Gutter Package
Half Round Gutter Style
K-Style Gutter Systems
Wide Variety of Colors and Finishes
No Clog Leaf Guard System
Cooler air will be upon the St. Paul area soon enough. Cool nights, rain and windy days will combine to bring out the beauty of fall leaves. The vibrant colors can be mesmerizing when they brighten up city trees with hues of gold, burnt orange and deep red. Unfortunately, they are not as appealing when you have to dig them out of Clogged Rain Gutters.
Let the team at Minnesota Leafless Gutters help you out with Gutter Covers that provide a No Clog Leaf Guard System. They can be professionally installed with your new Seamless Gutter Package or added to your existing gutters in most cases. You will no longer have to climb up on a ladder to remove leaves and debris that would have clogged your gutters in the past.
Custom Designed Gutter Packages
Minnesota Leafless Gutters works very hard to earn the respect of our clients. We do all that we can to provide you with a positive experience when dealing with one of our representatives. We back it up with a Lifetime Transferable Warranty on a Custom Designed Gutter Package for your St Paul, MN home. Our services include On-site Fabrication and Professional Installation of Gutter Styles, Materials and Colors to compliment your home. Gutter Covers are the perfect addition for No Clog Gutters.
For a Free Estimate Call: 612-221-0362. OR Email: Tim@mnleaflessgutters.com