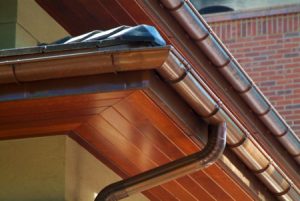 Investing in a new gutter system doesn't have to be bland and boring. Instead, our team at Minnesota Leafless Gutters is proud to offer many different elegant gutter styles that will enhance the overall look of your St. Paul, MN property. Thanks to our diverse gutter materials and gutter styles, you have plenty of options to choose from when investing in a new gutter system.
K-Style Gutters
More than 80% of gutters installed around the St. Paul, MN area are k-style gutters. This style gutter has been around since the 1960's and has maintained its popularity thanks to its crown molding design. These gutters work well in Minnesota because they are great at transporting large volumes of water away from your property. Additionally, this style gutter is very firm and is less likely to bend in comparison to other gutter styles.  K-style gutters are more susceptible to build up, so you may want to consider investing in gutter guards for this style gutter option.
Half-Round Gutters
Our half-round gutter options are another choice that many of our clients choose, especially if they have a historic or high-end property. This style gutter system is very efficient and holds up very well against heavy snow and ice accumulation. Our staff is able to make this style an affordable option for many of our clients thanks to our advanced technology and resources. One big plus about half-round gutters is that water fully drains out of your gutters after every rainfall. In turn, you will not have to clean out your gutters as often as you would with a k-style gutter system.
Elegant Styles In All Material Options
In addition to the styles that you can choose from, our dedicated gutter professionals provide great gutter material options for our clients to choose from as well. We are proud to offer elegant aluminum, copper and steel gutter materials that provide a wide range of benefits depending on your needs. Our gutter team has the knowledge to provide you sound advice regarding the advantages and disadvantages of each material.
Choosing your new gutter system can be a fun and exciting process. If you are in the Twin Cities metro area, let our gutter experts help you choose the best gutter style and materials for your property. To schedule a free estimate on an elegant gutter system, give our staff a call today at (612) 221-0362