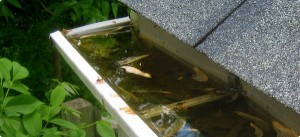 You're outside doing yard work when you notice that your gutter has a giant hole in it. Wasps start flying out of it and swarming you as you run away. This is a perfect example of when you should replace your gutters. Hopefully, it doesn't get this far before you realize you need new ones. Here at Minnesota Leafless Gutters of Minneapolis, MN we want you to have a gutter system that isn't going to have swarms of wasps coming out of your gutter.
There are a hundred reasons why you should replace your gutters. Leaf build up in the system can cause water damage inside your home. Yes, I said inside! When a gutter gets clogged, the water has to go somewhere. When water and materials from the roof start to build up, this can start to rot the gutters and initially the wood behind the gutter. Behind the wood is your wall. Like I said, the water has to go somewhere and you won't always know where the problem is until you start getting mold problems in your living room and now you're faced with a whole other heap of problems. Replacing your gutters in a timely and proper manner will help maintain the rain water and ice and snow melt after winter.
The Importance of New Gutters
What is the main thing you want to protect on your property? If you answered your home, then you are correct. A home needs a gutter system in order to keep redirect water and all the problems that come with it.
The purpose of gutters are to keep the rainwater and ice/snow that melts in the winter and spring away from your home, walkways and any type of landscaping you may have around the home. If you don't have a proper gutter system, the many hours and money you spent on your new flower bed was pointless. If you have a basement, like 90% of people in Minnesota, you know how hard it is to keep that space dry in the Spring, but a proper gutter system will help tremendously.
Seamless Gutters
Most gutters come in several different pieces, all which are caulked together for "no leaks" or "no build-up." Well, let me just stop you right there. Over time the caulking will wear away. Have you ever noticed how your shower starts to leak or that white rubber stuff is starting to peel off? Well, it's the same thing with gutters. That caulking will break down and cause leaks in the gutters and once the caulking has separated from the gutter, this is where leaves and debris will start to pile up, causing those unwanted gutter clogs.
Minnesota Leafless Gutters offers the best seamless gutters around. The word seamless should give it away to you. There's nothing to cause leaks or leaf build up. Doesn't that sound amazing? Seamless gutters are made from a single piece of metal that doesn't have to be pieced together with caulking. Even better, they are very easy to clean and keep maintained. Especially when that storm come whipping through, blowing leaves and debris everywhere. One simple swipe and your gutters are clean once again.
The Plus Side to Seamless Gutters:
Leaks? Where?!
Better appearance around your home. No more falling apart gutters.
No need for that repaint job.
All done the same day they come out.
Protects that home you love so much.
Colors to match any home.
We have been servicing the St. Paul and Minneapolis, MN area for over 17 years with all satisfied customers who are eager to refer to family and friends. This is how our company has stayed strong for many years.  Our installers are diligent in every gutter system they install. After all, it's your happiness that allows us to have the best in the business. We have testimonies and references from our happy customers to tell you how satisfied they are with a job well done.
Now, if you're ready to have a protected home and possibly save you from some bee stings, contact us here at Minnesota Leafless Gutters and let us help you create a safe and appealing home. 612.221.0362