Lake Elmo MN Seamless Gutters and Gutter Guards
Fall is the time of year to get your house in order before winter sets in. For most homeowners, this means it is once again time for making those last minute home improvements and repairs. While you're at it, don't forget to inspect your gutters!
Compared to other aspects of your home that might need attention, it's one simple task that often gets overlooked. But, it is one of the easiest and inexpensive things you can do to prepare your home for the cold winter months ahead.
Make sure that your gutters are free from debris that can cause them to clog. When water can't flow properly from the gutter to the downspouts, it will run over the edge of the gutter and cause water to fall around your walls and foundation (this defeats the whole purpose of what your gutters are designed to do). Gallons of water dripping onto the ground directly next to your home's foundation is a VERY BAD thing.
Unfortunately, rain gutters and downspouts tend to be "out of sight, out of mind." Though the function they serve is rather basic, they are a vital part of your home and failure to maintain them could lead to costly repairs down the road.
Gutter Guards
While annual inspection and maintenance of gutters is an important part of your home care routine, you can make the chore easier by installing gutter guards. They help keep debris out of your gutters and mean less work for you and fewer worries that something will go wrong. By ensuring that water flows freely from the roof, they prevent damage from backed up water and ice dams when snow starts to accumulate.
Safety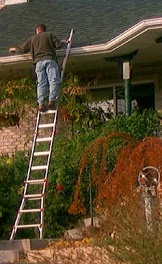 Next is to decide if you want to tackle this job alone or hire a pro. Let's face it, most homeowners are not comfortable climbing up on their roofs. Cleaning or attempting to repair your gutters from on top of the roof is risky business. At its best, gutter cleaning is a tedious and disgusting task. At worst, it can be scary and downright dangerous, particularly for our aging population.
Ladder injuries and accidental falls are among the leading cause of nonfatal injuries in the home – over 1/3 occur to adults 45 and older, and soon the largest class of retirees the country has ever seen will be creeping past 60. One slight misstep and you are heading to the hospital with a broken bone. While all people who fall are at risk, older people have the highest risk of death or serious injury. Maybe you have aging parents and you would like a professional to take this project off their "to do list" as well.
DIY vs DIFM
When Popular Mechanics' "expert DIY guy" lists roofing and guttering as one of the top five "don't do-it-yourself projects," it's worth noting. And when "Ask the Builder's" nationally syndicated newspaper columnist (and DIY enthusiast) Tim Carter joins suit in taking homeowners down from the roof, it's time to put away the ladder and pick up the phone.  Relying on a reputable Lake Elmo MN Gutter Installation Contractor to install your gutters or just tackle your gutter cleaning or repairs is the best decision. Most importantly, leaving guttering jobs to the pros saves you the very real risk of serious injuries, and even death.