Oakdale MN Seamless Gutters and Gutter Guards
Your home is very important to you, and for most people, it's one the largest investment most of us will ever make. So it just makes sense to do everything we can to properly maintain and protect it from the elements. And in Minnesota, the elements can be brutal. Think about it…. day in and day out your house can take quite a beating.
Consider for a moment that in Minnesota the temperature alone can vary as much as 130 degrees during any 6 month period. Add to that the power of ice storms, lightning storms, rain storms, wind storms and hail storms, and you start to realize the beating your homes roofing, siding, and gutters take in protecting you.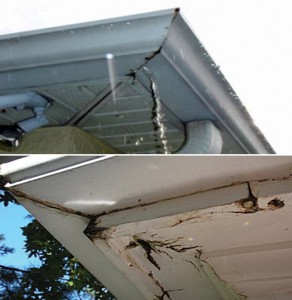 If you live in Minnesota, it's important to monitor your roof carefully during the winter. You may need to clean your roof gutters a few times throughout the fall season to make sure they are empty and fully functional for winter. To prevent water or ice buildup, it's important that rain and melted snow can drain freely from your roof and away from your home. Remember, the water should drain at least 3 to 4 feet away from the home's foundation.
One common situation that often occurs is ice dams along the edges of the roof. An ice dam happens when melting snow refreezes at the edge of the roof, possibly causing damage to the roof, insulation under the roof and even the ceiling below.
Though it may not seem like a big problem, ice damming can cause serious damage to your roof as well as the structure of your home. The good news is there are a few things that you, as a homeowner, can do to prevent ice dams. In many instances, the answer is… insulation and ventilation! Proper insulation and roof ventilation can stop ice dams from forming, prevent damage and lower your energy bills.
Winter may still seem a long way off, but eventually the snow is going to fly. You can love it, hate it, or simply tolerate it. No matter which camp you fall into, we all have one thing in common – we need to prepare for it. That means spending some extra time around the house preparing for the changing weather and making sure things continue to look their best. That includes your gutters.
Maybe you just haven't gotten around to doing your fall projects. Today's homeowners lead busy lives. Between getting Billy to his wrestling match and little Suzie to her cheerleading practice, who's got the time?  And even if you did, the skills… not everyone is handy with a hammer. In the meantime, the gutters leaking, the windows need replacing, and the handrails are starting to wobble …. On and on it goes.
So, if you've ever thought to yourself, "You know, I could do this, but it sure would be nice to have an expert tackle this for me, not to worry. A Minnesota gutter contractor can help you make sure you and your home are ready to take on another Minnesota winter!