Sunfish Lake MN Seamless Gutters and Gutter Guards
Living in Minnesota comes with plenty of perks – the beautiful lakes, the laid back atmosphere and the stunning cultural scene just to name a few. However, Minnesota also sees more than it's fair share of bone-rattling cold winters which can negatively impact your roof and your home. Ice damming is one of the most common concerns and insurance complaints for residents across Minnesota.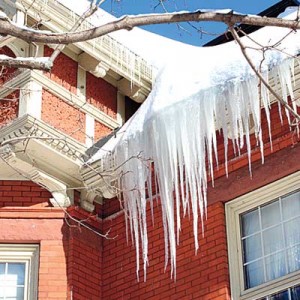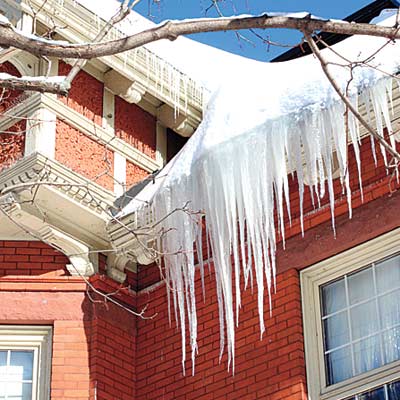 Excessive snow accumulation is another one of the biggest threats to Midwestern states. Not only is Minneapolis MN known for being in the top 10 for Worst Winter Weather Cities for snowfall, the Twin Cities has the coldest average temperature of any major metropolitan area in the nation.
And now, one of the coldest Arctic outbreaks in the past two decades has plunged into the Midwest, making it the coldest winter in two decades.  In fact, according to a recent report by NASA's power robot Mars Rover Curiosity, temperatures have actually been colder than highs recorded on the surface of Mars.  Cold enough for ya?  Yikes!  It doesn't get more extreme.
Although Minnesotans are no strangers to these problems, this winter's extreme cold weather could make a yearly problem much worse than normal. With more snow and cold weather predicted for our area, ice dams are rearing their ugly heads with a vengeance this month.
If you are worried about ice buildup or are dealing with ice damage, then now is the time to contact a Minnesota ice damage removal expert.
Ice Dam Prevention & Roof Snow Removal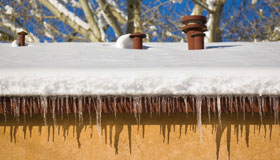 Ice Dam build up causes heavy snow on the roof that needs to be removed. In some instances, ice damage will be covered under your insurance plan.
One of the most common problems concerning ice damage is ice dams. Ice dams most often occur on sloping roofs during the cold winters in Minnesota. Ice dams occur when the temperature in your attic is above freezing and causes snow on the roof to melt and run down the sloping roof.
When the snowmelt runs down the roof and hits the colder eaves, it refreezes. If this cycle repeats over several days, the freezing snowmelt builds up and forms a dam of ice, behind which water ponds. The ponding water can back up under the roof covering and leak into the attic or along exterior walls. If you are facing ice dams, then you could be looking at some major problems in your entire home. No one wants to worry about a leaking roof, a wet attic or water damage throughout the foundation. Contact a Minnesota roofer to stop the leak and fix any ice dams before serious damage has been caused.
Let a professional contractor safely remove snow and ice from your roof using proper techniques to help prevent leaks caused by snow build up and ice dams using special shovels for snow and steam to melt away ice to insure no damage is done to your roof.
Minnesota Leafless Gutters knows how to tackle a Minnesota winter. We have proudly served homeowners in the St. Paul, Minneapolis, and throughout Minnesota for almost 20 years. If you decide to have a professional remove the snow from your roof, please call us today at 612-221-0362 to assist you!
Prevent Ice Dams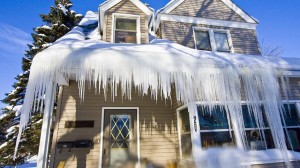 Although those sparkling icicles hanging from your Minnesota home are lovely, once you understand their potential for roof damage, they tend to lose their appeal. The problem with icicles is they can create an ice dam, which prevents water from draining off the house and instead allows it to pool along the roof line and cause wood rot, water-logged ceilings, and soggy insulation. Not to mention, the sheer weight of ice and water can cause your gutters or part of your roof to collapse.
The best way to eliminate prevent ice dams once and for all is to properly insulate your attic, so the roof stays cold and not warm enough to melt fallen snow. If you noticed icicles last winter, it's probably time to upgrade your insulation and seal up any air leaks (warm air from inside the house seeping into the attic). The improved insulation will also lower your energy bills, and you may qualify for a state or federal energy-efficiency tax credit or rebate.