Quality Gutter Products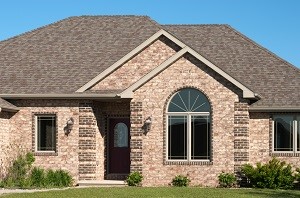 Seamless Gutters are becoming very popular in and around the Farmington, MN community. They are fabricated on site for a Custom Fit Gutter Installation with long lasting results. Minnesota Leafless Gutters are made of quality materials that stand up to the harsh Minnesota climate. We are a Seamless Gutter Contractor with over 17 years in the business. Our quality gutter products will not only add to the aesthetics of your home, they will protect it from the damaging effects of water on your foundation and vegetation.
Why Your Home Needs Gutters
Rain Gutters and downspouts provide needed protection for your home. They also can add to the value and curb appeal of a home. Here are 10 ways that Quality Seamless Gutters benefit and protect a your home while looking great:
Protects the foundation from water penetration by directing rainwater away from the home.
Protects shrubs, flowers and other vegetation by limiting standing water.
Controls moisture around garages and basements that could result in mold, mildew and wood rot.
Prevents topsoil erosion in back-fill around the home's foundation.
Protects windows and doors from water intrusion from heavy rains.
Protects masonry from becoming dirty from mud splashing back up.
Protects fascia and trim from damage due to water intrusion.
Increases the protective overhang of the roof that shields doors and windows and directs water away from entryways.
Increases the curb appeal of a home by adding a decorative element.
Provides a great way to collect rainwater for watering plants, trees and lawns while reducing your water bill.
Custom Fit Gutter Installation
Only a Seamless Gutter Contractor can provide your home with Custom Fit gutter protection. Minnesota Leafless Gutters are made from quality materials that are fabricated onsite using special equipment. We expertly install our Quality Gutter Products for the most secure and protective results. They are free from seams that may leak or sag. Our gutters are made of quality materials including Aluminum, Copper and Steel Gutters.
Seamless Gutter Contractor
Minnesota Leafless Gutters is a highly respected Seamless Gutter Contractor in the Farmington, MN area. Our many years of experience and Quality Gutter Products ensure that your home will receive the best gutter system around. We fabricate seamless gutters at your home using specialized equipment. Our crew are experts at Custom Fit Gutter Installation and Customer Service.
For a Free Estimate Call: 612-221-0362. OR Email: Tim@mnleaflessgutters.com