Superior Protection From Water Damage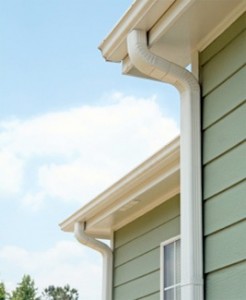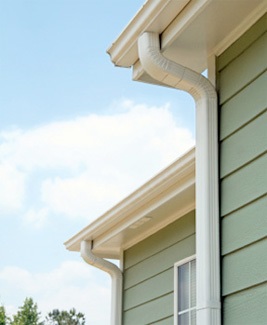 As storm clouds move in and rain starts to fall, are you confident that your home has adequate protection from water damage? Seamless Gutters from Minnesota Leafless Gutters provide outstanding protection from the damaging effects of heavy rain and snow. Our Experienced Crew offers Quality Gutter Installation and products that are both Functional and Appealing. Seamless Gutter Systems are far superior to traditional gutters that can leak and bend at the seams. Your Farmington, MN home can have the protectiveness of High Quality Rain Gutters with one call to Minnesota Leafless Gutters.
Functional and Appealing Gutter Systems
Minnesota Leafless Gutters provides expert installation of several different Quality Gutter Materials. Each is custom fabricated to fit and protect your home perfectly. Seamless gutters are very functional in the job they do directing water away from your foundation, vegetation, walkways and entryways. Without an effective gutter system your home may end up needing expensive repairs.
Seamless Gutter Materials
Rain Gutters can enhance the beauty of your home while providing excellent weather protection. There are several different styles and materials to choose from for a coordinating look with your home's exterior.
Seamless Aluminum Gutters are a great choice for Farmington homeowners who want cost effective protection. They are available in many colors and finishes to enhance your home's curb appeal.
Seamless Copper Gutters are not only functional but also gorgeous. They are of the highest quality and last for up to 50 years with little maintenance. Copper takes on a beautiful patina as it ages.
Seamless Steel Gutters provide heavy-duty protection from heavy Minnesota snow. They are built to withstand the weight of ice and snow better than other gutter materials.
Gutter Guard System
For added convenience and protection, don't forget to add Gutter Covers from Minnesota Leafless Gutters. Our gutter guard system keeps leaves, twigs and debris out of your gutters and keeps you off of the ladder. Nobody likes to spend their cherished summer and fall weekends on a ladder cleaning dead leaves out of their gutters. Gutter covers are the best solution and they look great too.
Experienced Gutter Installation Crew
Minnesota Leafless Gutters provides the Highest Quality Gutter Installation and products all around the Farmington, MN area. Our Experienced Installation Crew can fit your home with a great Seamless Gutter System that protects your home from the damages caused by water. We offer many different materials, finishes and color options that are both Functional and Appealing.
For a Free Estimate Call: 612-221-0362. OR Email: Tim@mnleaflessgutters.com