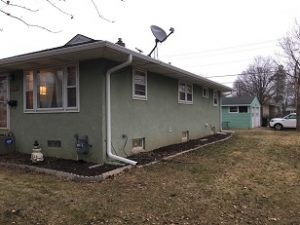 Have you gotten to the point of your new construction project that it is time for you to purchase a new gutter system for your property? Well, if that is the case, our team at Minnesota Leafless Gutters offers seamless gutters for new construction in the St. Paul, MN area. Keeping your new home protected in the future should be a top priority, and our durable gutter systems are a great way to accomplish that goal!
Not only is our staff known for the durable, long-lasting gutter systems that fit seamlessly to homes, but we're also well known in the St. Paul, MN area for our high level of customer service. Over the last 17 plus years, we've been providing gutter systems to homes in the area. Our services are customizable, prices are fair and the work we complete is always finished on time. There are no corners cut during the installation process and we will work hard to ensure that your new gutter system fits seamless to your home. No matter the gutter material you choose, rest assured that we use the heaviest gauge sheet metal available. Last, but not least, we provide our clients with a wide range of finish and color options that they can incorporate into this project.
Gutters Built To Last
Mother nature can be difficult in this region of the country. To ensure that your new home stays protected, it's critical that you purchase durable gutters. The good news for you is that all of our gutter materials offered are durable and built to last. Depending on your budget and preferences, choose from one of the following gutter materials for your new gutter system:
● Aluminum Gutters – Our most affordable option, these aluminum gutters are made from post-consumer and recycled material that can hold up for fifteen or more years.
● Copper Gutters – Looking for a gutter system that requires minimal maintenance? Our copper gutters are a low maintenance option that do not rust or corrode. Additionally, they can last fifty or more years.
● Steel Gutters – If heavy snow and ice accumulation is a concern for you, our steel gutter systems hold up great against this type of weather. This gutter option lasts about fifteen years as well.
At Minnesota Leafless Gutters, thanks for our free seamless gutter estimate for new construction, we make the decision-making process simple for our clients. To learn more about our customer focused team and our durable gutter material options, give our crew in St. Paul, MN a call today at (612) 221-0362 or email mnleaflessgutters@gmail.com.