Cottage Grove MN Seamless Gutters & Gutter Guards
Having gutters are especially important in spring when the Midwest has heavy spring rains. Especially with all the rain we've been getting lately. We've had some doozy storms already this year. Storms with strong winds and heavy rains may result in loose or missing shingles, cracks, and pock marks. Also, if your air vents, gutters, and siding are dented, you probably have damage as well.  Are granules present beneath your downspouts?  That is also an indicator of hail damage.  But often hail damage is hidden.
How Can I Tell if My Gutters Have Been Damaged by Hail?
The shingle mat may be cracked, and hail impact near the edge of a shingle may weaken it, permitting future water leaks.  The only way to be absolutely sure is to contact a Minnesota gutter installation contractor for an accurate inspection.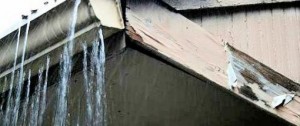 Often times the astute homeowner will discover the need for gutters immediately during or after a rainstorm—basement water problems, wet crawl space, pooled water at the outside wall of the home. Wet basements are one of life's biggest headaches. Roof drainage is, by far, the number one cause of basement leakage. Since roof surfaces are as large as the house, they can collect lots of water in heavy rainstorms. What happens to all that collected water can make the difference between a dry basement and an indoor swimming pool you didn't count on.
After any rain storm you should check your gutters. Walk around your home and inspect your entire guttering system. Look for any places where your gutters have become unattached to your roof. Check to see if any of the gutter sections are cracked or bent. If you have gutter covers, be sure to check those as well.
It is important that a homeowner consult with an experienced expert gutter and downspout professional. Your home should be inspected to determine if there are special problem areas that need solution, repair, and product application that will prevent future damage.
In Minnesota, we only have a limited time to enjoy our home every summer. Do you really want to spend it worrying about your gutters?  The answer is seamless gutters and gutter guards!
Installing seamless gutters on your Cottage Grove MN home will protect your home from the heavy snow, rain and ice dams we have in Minnesota. If you have mature trees around your home, the installation of gutter guards can eliminate the nasty gutter cleaning chore as well. You will spend less time worrying about water damage to any part of your home, including your siding, landscaping, foundation or anything else.