Gutters, Down Spouts and Drainage Part 2
The purpose of a guttering system is to collect water (rain) from the roofing area and disperse the water away from your home. Properly configured downspouts (leaders, drain pipes) are very essential. Gutters and drains need to be adequate in size and quantity to handle all but the heaviest of torrential downpours.
How to Determine Gutters & Downspouts
The most commonly used is the 5″ Seamless Aluminum Gutter.
2″ x 3″ downspout for every 600 square ft. of roofing area.
3″ x 4″ downspout for every 1200 square ft. of roofing area.
For example: If your roof is 40ft. long and 16ft. to the peak.
40′ x 16′ = 640square ft. area *Requires (2) 2″ x 3″ downspouts or (1) 3″ x 4″ downspout.
6″ Seamless Gutters may be required to accommodate steep pitch roofs, metal roofs, or slate & tile and should always be used with 3″ x 4″ downspouts.
Installation
For the average house, installation will be done in one day. Your gutter installer will arrive with a truck or trailer-mounted seamless gutter machine with the color you've selected.
Each piece is measured individually, and fabricated on-site with our seamless gutter machine to create a continuous piece of gutter that is custom sized. Our  is state-of-the-art process can form 5″ and 6″ "K" style gutters. All end caps and outlets are sealed with professional-grade self leveling sealant. We use color-matched screws and touch up with matching paint. Each section is attached to the fascia using a level to ensure proper drainage.
Some companies use different methods of securing your new gutters. One is the spike and ferrule – a hollow tube is placed inside the gutter to keep it from bending, then a long spike is driven through the face of the gutter at the top, through the ferrule and into the wood fascia board. Unfortunately, a 50 ft. section of gutter will expand over 1″ in length on a hot summer day. The expansion and contraction will work the spikes loose over time. It is not uncommon to see spikes that have pulled out over an inch away from the gutter face on an older home.
A better option is the inside bracket or hidden bracket which interlocks into the gutter for a cleaner look and is then attached to the roof every 30″ under the shingles with screws for superior strength. This is the preferred method.
The last step is the installation of the downspouts, which will be located as needed according to the amount of roof runoff each section of gutter has to handle, as well as the where the best location is for directing the runoff away from the house.
Water Collection Information
The drawing illustrates the amount of rain a different pitch roof will collect. Assuming the rain comes straight down, they are all the same, even though the roof area of a 12/12 pitch roof is more than that of a 4/12 roof. The building area (foot print) is the same.
The difference is the rate the roof sheds water. The roofing material (metal, wood, asphalt, tile) also regulates run off. Larger or additional downspouts may be needed for a 12/12 metal roof. A standard rule is one 2″ x 3″ downspout per 600 sq. ft. area, and one 3″ x 4″ per 1200 sq. ft. area.
Technical Information
One foot of 5″ K-Style gutter holds 1.2 gallons of water.
One foot of 6″ K-style gutter holds 2.0 gallons of water.
One inch of rain on a 1 foot square flat surface area will produce .62 gallons of water. Using this value, you can calculate the amount of water that will come down your downspout on a given rain.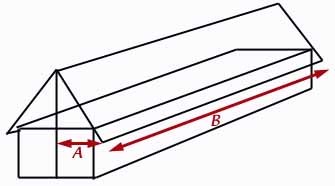 Using the illustration to the right, if line A is 15 feet and line B is 50 feet you would have 750 sq. ft. of roof area and will produce 465 gallons of water for every inch of rainfall. If you use this figure to include the entire 30′ x 50′ building, it is surprising that the amount of rain water produced is 930 gallons with a 1″ rain! (30 x 50 x .62)
Gutters Professionally Installed
Seamless gutters, custom crafted to match your style and fit perfectly, can provide the lasting quality that you are looking for in water runoff control. "No seams" means no rust or unwanted dripping. It is well worth considering talking to a Minnesota gutter installation contractor about installing seamless gutters on your home.