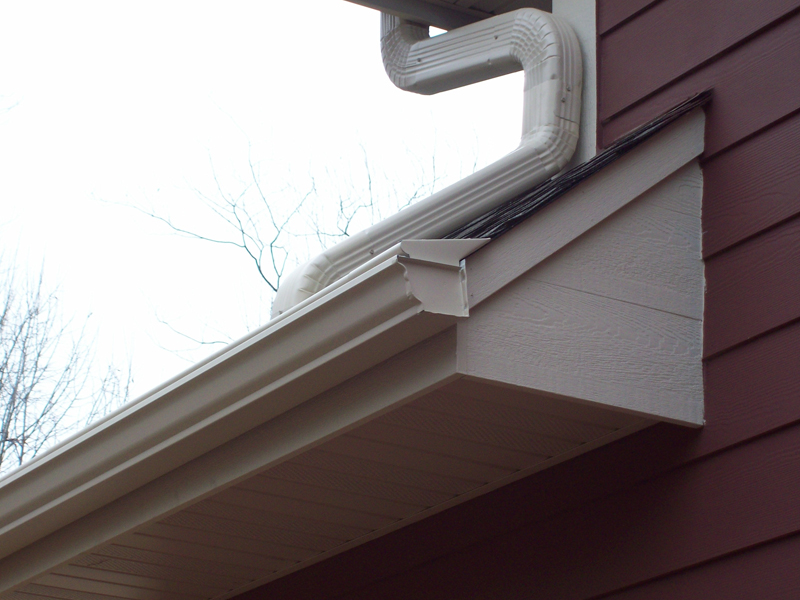 Stop worrying about water damage every time it rains and upgrade your home with an attractive Gutter Replacement System. Traditional rain gutters can easily be compromised along seams where the pieces connect together. Minnesota Leafless Gutters has Quality Gutter Products that have a durable one-piece system. We are a Licensed and Insured Gutter Company in Roseville, MN. You can always count on gutter installation that protects the integrity of your home and looks great.
Quality Gutter Replacement Systems
Clogged, damaged or insufficient gutters provide little protection from rain. Water intrusion is a great source of concern for Roseville homeowners. When a gutter system fails, the water can back up underneath shingles or cascade down to the foundation. A flooded basement or mold damage can be the result.
The answer for faulty gutter protection is a Quality Gutter Replacement System from Minnesota Leafless Gutters. We are the experts in Gutter Fabrication and Gutter Installation with dozens of colors to choose from. Your home will have superior protection from water damage for decades.
Expert Gutter Installation Roseville
The Gutter Installation Process requires equipment, experience and skills if you want to end up with long lasting results. Minnesota Leafless Gutters provides a custom fit for each gutter installation that we do. They are built to last and installed to be Extremely Durable to stand up beautifully in the unforgiving St Paul climate. Rain, snow, wind and ice are typically no match for our expertly installed, quality gutter products.
Licensed and Insured St Paul Gutter Company
There is no need to take any chances when hiring a St Paul Gutter Contractor. Choose a reputable company that plays by the rules and cares about your home. Always go with a Licensed and Insured Gutter Company like Minnesota Leafless Gutters. We stand behind our work and are fully insured for your protection and ours.
Roseville Gutter Contractor
Minnesota Leafless Gutters is a well-respected St Paul Gutter Contractor. We have been in the business for more than 18 years. Our commitment to quality shows in every Gutter Installation or Gutter Replacement System that we provide. You can rest easy and trust a Licensed and Insured Gutter Company that stands behind our Quality Gutter Products and Services.
Every gutter installation comes with a Lifetime Transferrable Warranty for labor and materials!
In Roseville call for a Free – No Hassle – Estimate on Quality Gutter Products call Minnesota Leafless Gutters at: 612-221-0362