Stillwater MN Seamless Gutters
Have you been considering installing new seamless rain gutters onto your Stillwater, MN home? If so, now is a good time, before April showers begin. Hard rain and blustery winds of April can also bring a lot of damage to your gutter system. Those include wood rot, foundation problems and landscaping erosion. In Minnesota, soggy leaf build up is also prime breeding ground for mosquitoes.
Once that happens, it can cause major puddles or leak into walls and may cause major damage to any plantings, paving, or—worst of all—the  foundation of your home.
Granted, gutters aren't exactly glamorous. But they handle a critical task: When in clean, working condition, a properly designed gutter system will carry water safe distance away from your foundation. Rain gutters also play an important role in protecting homes from significant water damage and basement flooding.
Because many people don't get their gutters cleaned as often as they should, the leaves that have fallen from trees over the course of fall and winter often accumulate in the gutters, causing blockages and other big problems, like mold and algae growth.
Leaving leaves in gutters makes them unable to drain  properly and causes water to run over the top of the gutter. That can cause them to rot over time if the problem isn't taken care of.
It is not unusual for traditional gutters to get clogged with leaves, debris and ice (causing ice dams). When this occurs, it your home's structure could become damaged. After months or even weeks, leaks can damage your home's foundation and the extra weight can pull the gutters away from your home.  Don't let this happen to your home!
More important, gutters and downspouts form the first line of defense against a wet basement or crawl space: If you let water collect along the foundation, hydrostatic pressure will build, and water will eventually find its way inside your house.
Protect Your Home From Roof To Foundation!
Do you cringe at the dangerous, tedious, and time consuming job of climbing ladders and dealing with leaves, needles, pine cones and all the other gunk that collects in your gutters?  If so, then you may want to look into a Minnesota seamless gutter system so that you can eliminate this dangerous and aggravating chore.
Seamless rain gutters are far superior to traditional gutter systems for several reasons. First, seamless gutters are one continuous segment. This means that they do not have any joints along the gutters which can cause weak spots, bends and leaks.
Also, seamless rain gutter systems are designed in such a way that they do not collect leaves and debris from your trees. This means that your rain gutters are less susceptible to getting clogged.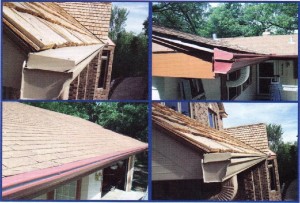 There are several types of gutters on the market and you need to decide which type fits your needs and your home the best. Gutters can be made from steel, copper, aluminum or vinyl. There are pros and cons to each type of material. Decide which one is right for you before you shop.
Protect your home from the roof to the foundation with seamless gutters.  The best gutters will protect your roof, home foundation, driveways, and walkways from potential water damage.  Seamless gutter systems do all these things very well, and they will look great too!
Enjoy the beauty of your home without the dangerous task of cleaning your gutters ever again. Climbing ladders and hanging off the edge of your roof are a thing of the past. With a Seamless Gutter System, your gutters stay free and clear of debris regardless of any kind of nasty weather for many years to come.
If you want to install seamless rain gutters on your Minnesota  home, you will want to contract with a Stillwater Minnesota gutter installation company. The size and placement of gutters, downspouts, and drain systems is a science, and not recommended for the average do it yourselfer.