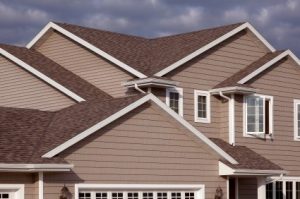 With any part of your home, you want things to fit well. Whether it is the front door of your home or the windows throughout your property, a seamless fit is very important. The same goes for your home gutter system. If you not pleased with the current fit of your gutters, it may be time for you to seek professional gutter repair or replacement services. Lucky for you, our dedicated team at Minnesota Leafless Gutters specializes in seamless gutters for all of our clients. We don't leave your property until your gutters fit perfectly to your home. Last thing we do is hand you a Lifetime Transferable Gutter Guarantee.
Eliminate Water Basement Issues Vadnais Heights, MN
Poorly functioning gutters that fail to seamlessly fit to your home can cause water to leak through your system and come into direct contact with the structure and foundation of your home. When you invest in a home, most individuals are planning to make an investment for the long haul. By allowing your existing gutters to continue to poorly perform, you are negatively impacting the overall structure of your home. In turn, you may end up having much larger issues than inefficient gutters down the road.
Lifetime Transferable Gutter Guarantee
Investing in seamless gutters from our experienced team at Minnesota Leafless Gutters is a great way to be proactive when it comes to protecting your home. With every project that we take on, our gutter installation staff customizes our gutter materials to fit seamlessly onto your home. Depending on the type of material you choose to invest in for your gutters, you'll be able to keep your home safe from water for decades to come.
Affordable Seamless Gutter Estimate
At Minnesota Leafless Gutters, we offer a no hassle gutter inspection and estimate so that you get a clear picture about the financial aspect of the project. If it's too much for you at this time, no worries at all. Chances are that you'll find our seamless gutter options to be very affordable. Either way, this is a no hassle gutter estimate that requires no obligation.
Seamless Gutters Vadnais Heights, MN
Don't underestimate the importance of having seamless gutters to protect your Vadnais Heights, MN home. If your existing gutter system is inefficient and you've noticed water coming into contact with the exterior or foundation of your home, it is time for you to address this issue. To learn more about our seamless gutter options or to request a no hassle estimate, give our team at Minnesota Leafless Gutters a call today at (612) 221-0362 or email mnleaflessgutters@gmail.com.