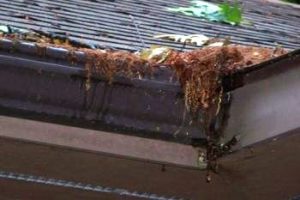 Your gutter system is built to blend into the exterior of your home and not be noticed. While they are not exactly hidden, you may not even notice them when you are looking at a home across the street, or on a Sunday afternoon drive. You may not think about your own gutter system very often either, until it is time to climb the ladder and clean them out periodically! Your gutters perform a very important function – to allow water to flow away from your home so that it does not pool on your roof or property and cause costly water damage. You should make sure to take note of your gutter systems at least a few times a year to make sure that they are working properly and not leaving your home vulnerable to leaks or damage to your foundation. A standard grade gutter system can be expected to last approximately 15-20 years. Here are some signs that it may be time to replace your gutters:
1. Sagging gutters or areas that have pulled away from your home
2. Pools of water near your foundation or moisture in your basement
3. Noticeable cracks or splits in the gutters
4. Rusted gutters or peeling paint
5. Gutters overflowing with debris and/or water
Benefits Of Seamless Gutters
Minnesota Leafless Gutters can help you when it is time to replace your standard gutter system. Whether your current system is damaged or not working as it should, or you are simply ready for an upgrade, our contractors can help you choose the perfect new gutter system for your property. Our seamless gutter systems do not allow dirt, leaves and debris to enter, so they are maintenance free and built to stand the test of time. You can choose from several materials (steel, aluminum and copper) and more than 100 colors. We will customize the gutter system to fit your home and make sure that the design meets your needs and your budget. Our gutter systems will keep the water flowing away from your roof and foundation and actually prevent water problems from occurring.
Gutter Installation Contractors In Minnesota
Now is a great time to consider a new gutter system. For more information or to speak with an experienced member of our staff, give us a call at 612-221-0362. We serve the St. Paul, Minneapolis area, the greater Twin Cities metro area, as well as other parts of our great state!