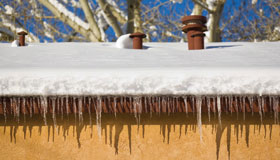 Have you noticed that your home has problems with water flow? You may notice that water pools on the roof or seems to pool in a certain area in your yard. This is a sure sign that your gutter system is not working correctly. Other indications of gutter problems include small cracks in your gutters, peeling paint, rust, mildew or moisture near your home's foundation, gutters sagging or pulling away from the home, and breaks in the seams may mean that you need to think about a gutter repair or replacement. Minnesota Seamless Gutters can complete a quick assessment of your current gutter system and let you know whether your current gutter system can be effectively repaired or if it is time for a replacement.
Gutter System Repair Or Replacement In Minnesota
Depending on the strength of your current gutter system, you can expect a gutter system to last for at least 20 years. Their function is to push water away from your foundation in order to prevent costly water damage. So, when your gutters stop working as they should, it is really important to have them looked at so that you do not end up with a leak in your roof, damage to your siding or a problem with your foundation. These are serious issues and can be entirely prevented with gutters that work the way that they should.
Benefits Of A Seamless Gutter System
Minnesota Leafless Gutters serves clients all over the St. Paul and Minneapolis area. We can take a look at your home and determine exactly what type of gutter system will work best for your home. We offer many different gutter styles, sizes, colors and materials to choose from. When you work with us, you can be confident that your gutter system will not detract from the overall look of your home. The new gutter systems that we install also require little (if any) maintenance. No more climbing up onto a ladder and pulling dirt, leaves and debris from your gutters! That work is a thing of the past. Our copper, aluminum or steel seamless gutter systems do not allow materials inside that will clog the system. Only water will be able to flow through your new seamless gutter system.
If you are concerned about your current gutter system or have noticed that it may be time for repair or replacement, consider working with our team at Minnesota Leafless Gutters. Call us at 612-221-0362 to schedule a gutter evaluation.