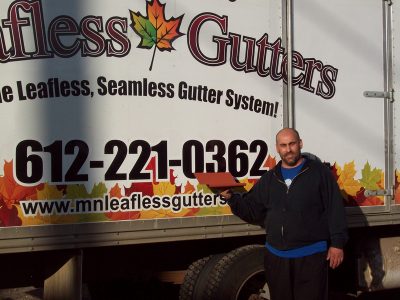 When is the last time you replaced your gutters? If it's been more than 10 or 20 years, it's likely time to start thinking about updating your old gutters. Over time, gutters can stop functioning properly, and if they're currently leaking, they can cause major problems to the soffit and fascia of your home as well as your foundation. Properly functioning gutters are one of the easiest ways to protect the foundation of your home. To learn more about upgrading your gutters, feel free to give Minnesota Leafless Gutters, your South St Paul gutter installation company a call today.
Why Choose Minnesota Leafless Gutters for All Your Gutter Installation Needs?
At Minnesota Leafless Gutters, we've been installing gutters in and around the St Paul area for decades. While some gutter installation companies try to cut corners by using inferior materials, at Minnesota Leafless Gutters, we only install seamless gutters. With seamless gutters, you'll never have to worry about leaky gutters thanks to each gutter being one seamless piece as opposed to sections. Gutters typically leak at the joints or corners, which is why seamless gutters are a much better option in most instances.
The Minnesota Leafless Gutter Difference
At Minnesota Leafless Gutters, we're committed to ensuring all of our customers are satisfied. Below are a few of the ways that our company separates itself from our competitors:
We offer a wide array of gutter finishes and colors
We'll be more than happy to offer a free gutter inspection and consultation
We're committed to always providing our customers with competitive pricing
We customize your seamless gutters to perfectly fit your home thanks to our state-of-the-art industrial metal fabricating equipment, which is all done on site
We'll complete the gutter installation project on time and on budget
We'll clean up your yard so that you'll barely even know we were there
We use heavy gauge sheet metal available in a wide array of materials including steel, aluminum, or copper
Our gutter installation teams are experienced and work hard to ensure each project is completed to your exact specifications
Contact Minnesota Leafless Gutters Today
If your gutters are in need of repair, feel free to reach out to our team today. We'll be more than happy to come out to your home to provide you with a free consultation to determine the proper gutter materials based on the style of your home. We can be reached anytime at 612-221-0362. We look forward to hearing from you soon!