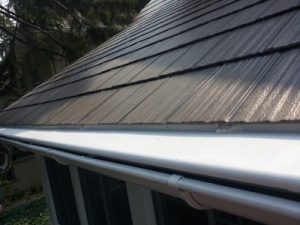 Minnesota Leafless Gutters installs seamless gutter systems on your home. This solves some potentially major problems for the long-term condition of your house. Leaves and other debris are the enemy of your gutter system. But our seamless gutters prevent leaves and debris from building up in your gutters. And by preventing this build-up, your gutters will maintain the free flow of water run-off that gutters are supposed to provide.
Seamless Gutters Protect Your Homes Structure
Seamless gutters protect the structure of your home from the ravages of Minnesota weather. Seamless gutters do this more effectively than contractor-grade gutter systems. Standard gutters almost always allow your gutters to become clogged by leaves, pine needles, branches, or snow and ice. Seamless gutters installed by our staff virtually guarantee that your gutters will perform as designed – keeping water moving away from your home. That is not a claim that can be made by companies that install standard gutter systems. We can make that assertion because of the quality of our gutters and the excellence of our installation process.
A gutter system that allows water to move efficiently off your roof means that water cannot get under shingles and cause damage to the structure underneath. Industry-standard gutters are adequate for average weather, but they will clog when leaves and needles fall into them. Water, snow, and wind can distort shingles and allow wind, water, and snow to get underneath. A leafless gutter system serves as a failsafe.
Most homeowners do not think about their gutters until they clog up or fail to perform as expected. Seamless gutters are far less likely to fail because of the way they are constructed. The design of seamless gutters is simple and will complement your home's appearance, almost disappearing into the exterior. They are designed to follow the shapes and angles of your home. They come in the primary or accent colors of your home.
South St Paul Leafless Gutter System
We know that you do not want anything, least of all gutters, to take away from the aesthetic appearance of your home. Most gutter systems are tacked on to houses with minimal effort made to match their color to the house. But seamless gutters blend in and even accent the beauty of your home. And, perhaps their greatest function is that they prevent your house from suffering the effects of rain, snow, and wind. Because seamless gutters prevent debris from clogging the gutters and downspouts, water and snow will not accumulate like they do with conventional gutters.
Contact MInnesota Leafless Gutters by calling 612-221-0362, or email us at mnleaflessgutters@gmail.com and we will schedule a time to give you a free estimate.